International travel writers visit El Secreto, Ambergris Caye's newest luxury resort
Monday, November 12th, 2012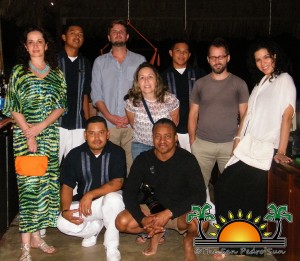 El Secreto Resort will no longer be a "secreto" after the new resort hosted a visit from five international travel writers and photographers. The group arrived on November 1st and during their stay, they explored the many activities available for visitors to the island. Representatives from Destination Weddings & Honeymoons, Caribbean Living Magazine, Robb Report Exceptional Properties, Nylon Magazine and Recommend Magazine were the five international magazines that were invited to experience "El Secreto" and in addition, get to know more about Ambergris Caye and Belize.
One of the first things the group of five did was to do a flyover over the Great Blue Hole with Maya Island Air. The Blue Hole is a sink-hole cave believed to have been formed when the walls of a cave collapsed. The marine destination is considered one of Belize's biggest gems, sitting right beside Halfmoon Caye in the Halfmoon Caye Marine Reserve and National Park. Following their flyover, the group was transferred to San Pedro Town and eventually to El Secreto.
While on Ambergris Caye, they had the opportunity to snorkel at Hol Chan Marine Reserve and at Shark Ray Ally, one of the most visited marine parks in the country. They were given a tour of the downtown area of San Pedro while visiting some of the popular local spots. The group also had the chance to dine at one of San Pedro's most popular restaurants, Elvi's Kitchen.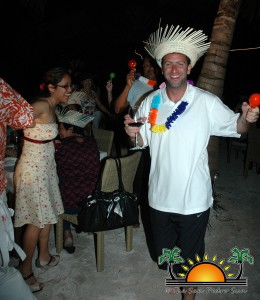 Andrew Innerarity, Bo Morris, Micheal Harvkey, Paloma Villaverde de Rico and Brooke Showell also had the opportunity to meet with the Mayor of San Pedro, Daniel Guerrero and his wife along with local media personnel at a cocktail reception on Thursday, November 1st at El Secreto Resort. The visiting group mixed and mingled with the local press and learned more about Belize through a video documentary presented by Deborah Gilharry of the Belize Tourism Board. While all five had heard about Belize, none had been here before; and for at least one of them, it was "love at first sight."
On the evening of Saturday, November 3rd El Secreto hosted a second social event where local media and community leaders had the opportunity to visit the island's newest resort and mingle with the writers. A beach dinner party was held where guests enjoyed a gourmet meal while treated to live entertainment and traditional Garifuna music with cultural dancers. By the end of the evening folks found themselves barefoot dancing on the beach under a bright moon and testing their skills at doing the limbo.
El Secreto Resort opened its doors in October of 2012 and is located 11 miles north of San Pedro in the far northern part of Ambergris Caye. Of recent, it has received multiple international reviews because of its perfect location, its scenic views, relaxing setting, private accommodations and excellent and exclusive service. To find out how to book your luxury stay, visit them at www.elsecretobelize.com!
Follow The San Pedro Sun News on Twitter, become a fan on Facebook. Stay updated via RSS