Tour Company abandons couple on Half Moon Caye
Thursday, March 7th, 2013
BTB calls action "totally unacceptable"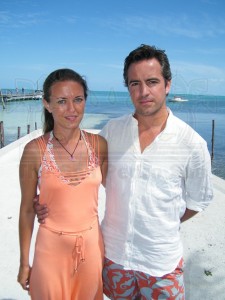 The Belize Tourism Board (BTB) has started an investigation following an incident at sea in which a European couple was left stranded on an island by a tour operator located on Ambergris Caye. The incident has the two visitors questioning the level of professionalism involved in diving in Belize. St. John and Claire Neilson, told reporters on Caye Caulker, that on February 27th they were left stranded at Half Moon Caye by the dive company, Aqua Scuba. According to the tourists, who had traveled to Belize from London, England on an extended honeymoon trip, they had booked a scuba diving package with Big Fish Dive Center in Caye Caulker. Since Big Fish Dive Center was having trouble with their vessel they subcontracted the tour to Aqua Scuba Dive Center in San Pedro to take the couple out diving off Half Moon Caye and the Blue Hole.
The couple told The San Pedro Sun (SPSun) that after two dives, the crew of Aqua Scuba docked at Half Moon Caye for a one hour lunch break. St. John explained that the crew informed the divers that any persons arriving at the boat late would be left on the island. "We were given one hour for lunch on Half Moon Caye and told not to be late otherwise the boat might leave without us. We thought this was a joke. We went to see the red-footed boobies after lunch. We arrived back at the dock to see the boat disappearing in to the distance. We tried to whistle and hail them; they did not stop. We found a ranger; he informed us that this was not a single scenario; that this had happened before with other divers. We were sixteen minutes late according to his (the ranger's) watch. He contacted another dive company, Ecologic Divers, who then took us to the Aqua Scuba boat because they had our belongings, and then when we got back here we reported the incident to the tourism authorities straight away." The couple further explained that the reserve ranger had told them that it was not the first time that the crew of Aqua Scuba had left divers stranded on the island, something that was later confirmed to The SPSun by the BTB who has now launched an investigation.
Although the couple's safety was not put in direct danger, they have justifiable reason to be upset. "We are outraged that this outfit is allowed to operate and 'toy' with the safety and lives of its clients," said the couple who explained that they had contacted the owner of Aqua Scuba Dive Center, Benjamin Aguilar. "He (Aguilar) didn't apologize for the actions of his crew; he even blamed us for being late back to the boat hence their departure, and then taunted us to escalate the situation if we could,"said St. John of his conversation with the owner of the dive company. The particular incident now places the safety and reputation of Belize's dive industry in jeopardy, especially since Belize promotes itself as a recreational and professional dive destination. In fact, according to BTB, diving has quickly escalated as one of the main attractions for Belize. Through the years, hundreds of tourists have flocked to the country for a unique dive experience. According to BTB's Director of Quality Assurance Armeid Thompson, incidents such as the Neilson's can damage the entire tourism industry for Belize.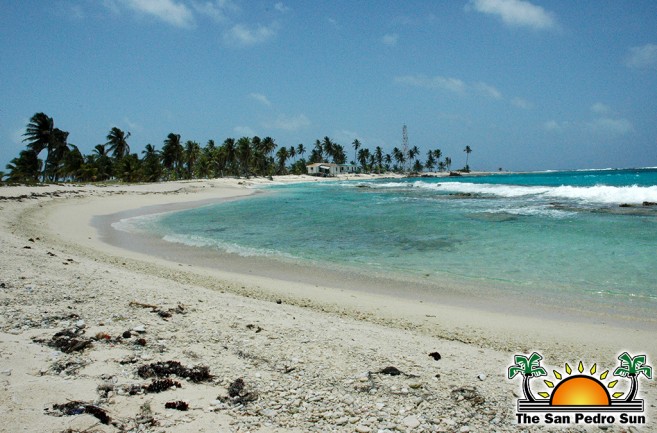 "You always do a head-count. And that is the point; it is all about safety in scuba diving. They actually said that they believed we were on the boat. They thought they had done a head-count. They obviously hadn't done one properly and they hadn't realized that they had left us. So whether you are late or not—ten minutes late [or] half an hour late—you do not leave people behind. If we were in the water, it could have been a much worse scenario. And this is what we are concerned about, divers being left—either on a deserted island or in the water in the future—this should never ever happen," said Claire Neilson.
Armeid Thompson reiterated that the incident with Aqua Scuba is isolated. "This is definitely not the norm for any tour operator in Belize… there are certain standards that tour guides and tour operators should adhere to even in the absence of local laws. It is definitely not the norm of having divers left behind on a Caye or island especially if an operation is being run under the name of the Professional Association of Divers International (PADI) because they also have strict standards which diver operators need to adhere to. What I have been able to ascertain so far is that Aqua Scuba has not renewed their certification with PADI since 2010, because we are doing our investigation also. They used to be a PADI member but had expired since 2010, and PADI has no intension of renewing this operation's license because of similar complains in the past. Now that we have this information, we will take it to the Tour Operator's Committee and I definitely believe that the committee will use this tour operator (Aqua Scuba) as an example for the rest of the country." Thompson further added, "It's very egregious, it is something that is unheard of about divers left behind and its totally unacceptable and extremely abhorrent. We at the BTB are appalled."
The British couple is calling for authorities in Belize to ensure that better standards are put in place to assure the safety of its tourists and also wants Aqua Scuba to be disciplined. Armeid explained that Aqua Scuba will be summoned to appear before the Tour Operator's Committee meeting scheduled for March 19th, where it is expected that the tour operator will be given an opportunity to explain their actions. A decision will then be made as to whether or not BTB will suspend the company's tour operator's license. "The committee will pretty much make a decision. Their decision can go from suspension of the tour operator's license, a probationary period of probably six months or more, or ultimately to revoking the tour operator's license. Really what the Tour Operator's Committee is looking to see is if there is a complaint that comes up against somebody or against a tour operator or even a tour guide, that there is a level of responsibility that is accepted by the operation," said Thompson.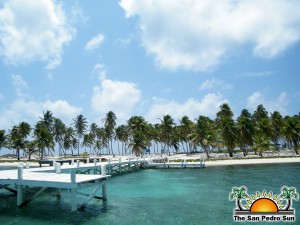 The Belize Tourism Industry Association (BTIA) has also condemned the incident and calls for the BTB to address the matter. "It is certainly not a situation one would want to have. It is very distressing obviously to hear that a dive boat will leave without you or will leave you behind stranded on an island. It's a situation of significant concern. We have passed on the information to BTB and we are fully behind their course of action as it relates to their investigation. We call for a proper investigation to be done into this particular matter and if there are penalties due to the negligence of the operator then we certainly would want to see that those penalties are enforced. We cannot have operators and outfits behaving in this manner and ultimately cause a black eye to the industry because of the negligence they wanted to embark in," said the National President of BTIA Herbert Haylock.
According to Haylock, this is a pressing matter since lives were put at risk, whether they were or were not in immediate danger, there were no ethics on behalf of the dive center. Haylock said " I think honestly at the end of the day regardless of the operation you are in, whatever sector you are in the industry, you need to first and foremost be conscious on the safety of the individual that have entrusted your establishment… a proper head count should be done at the end of all operations."
Besides The San Pedro Sun, the Neilson's also contacted the British High Commission in Belize, BTB, Belize Tourism Industry Association (BTIA), Professional Association of Diving Instructors (PADI) and International Diving Association concerning their incident.
The SPSun attempted to get comments from Aqua Scuba Dive Center but was flatly denied an interview by Mr. Aguilar.
Follow The San Pedro Sun News on Twitter, become a fan on Facebook. Stay updated via RSS