"Sick" Air Traffic Controllers Shut Down PGIA
Thursday, February 26th, 2015
History took place on Saturday, February 21st when the Philip S.W. Goldson International Airport (PGIA) was closed to air traffic after Air Traffic Controllers (ATC) scheduled to work called in sick. The lack of ATC staff caused much chaos across the country, as no plane could land or take off from PGIA. National airports with scheduled flights to PGIA saw masses of distressed and confused customers who were unable to get to the international airport for their connecting flights. The Belize Civil Aviation Authority reported that the shutdown of PGIA caused two international flight to be diverted to San Pedro Sula, Honduras, but that by 11AM, operations were back to normal.

The problem was first noticed when a scheduled Tropic Air flight from Punta Gorda Town to PGIA was diverted to the Municipal Airstrip because there was no response from the tower. The question was "why would six staff members scheduled to man the control tower from 6AM to midday call in sick?" The answer is apparently 'low wages, long working hours, and political appointment'. Due to the fact that ATC are categorized by law as an essential service, they cannot participate in a strike, so they called in sick as a form of demonstration. The situation came as a surprise to the Civil Aviation Authority, and as such they were caught unprepared. "On Saturday, February 21st at 6:10AM, the Ministry of Tourism, Culture and Civil Aviation, and its Department of Civil Aviation were informed that the air traffic controllers scheduled to work the 6AM to 12PM shift at the Control Tower of the Philip Goldson International Airport had reported in sick. Subsequently, the Department of Civil Aviation has also received indication that some of the air traffic controllers scheduled to work the 12PM to 6PM shift had also reported in sick," stated Director of Civil Aviation, Lindsay Garbutt in a press release.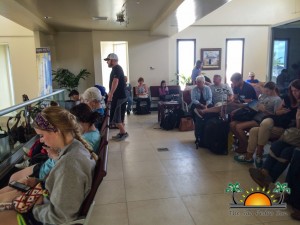 Once all airlines where advised of the situation, the Civil Aviation Authority diverted their efforts into getting the control tower running again. "While two international flights (Delta Airlines and Avianca), were initially affected due to these unfortunate circumstances, the Ministry of Tourism, Culture and Civil Aviation, and the Department of Civil Aviation, in conjunction with its regional partner COCESNA, and its local partners the Belize Airport Concession Company and the Belize Airports Authority, have reinitiated full operations at the Control Tower of the Philip Goldson International Airport. Consequently, we have been able fully resume all local and international flights, as scheduled. We are also working to rectify the inconveniences caused to the flights that were affected this morning," said Garbutt. Three trained ATCs from neighboring countries along with two retired civil aviation officers were brought in to operate the tower, and by noon, operation was back to normal. The first international flight landed at PGIA shortly after 1PM.
Here in San Pedro, both Tropic Air and Maya Island Air terminals where crowded with customers scheduled to fly to PGIA. While tensions were not too high, some customers did express their confusion and irritation. Many tourists, who indicated that due to the delay they had missed their flight, simply returned to their hotels to enjoy a day more of vacation. Almost all tourists expressed their astonishment, as they had never experienced an international airport being shut down.

The Citizens Organized for Liberty through Action (COLA) also commented on the incident, shedding light to some of the reason why ATC took the drastic decision. "Air traffic controllers are responsible for the safety of airplanes taking off and landing expeditiously. ATC staff may sometimes work as many as ten hours per day, if not more. Despite international standards ensuring that controllers are to rest for 8 hours between shifts, we are told of some workers going above and beyond, working for as many as 18 hours of a 24-hour day. That kind of dedication results in lower vigilance and reaction, and when multiple aircrafts are in the air, a split second may see an unfortunate and terrible accident. Rest is necessary to ensure that such accidents can be avoided. Inside the tower, the situation is not much better. There is a crippling lack of staff to manage the control tower and radar room. Between them, there are nine qualified persons, one of which is about to retire, but an international expert visiting Belize recommended that the maximum in each area should be ten workers each. Because of the severe shortage of air traffic control officers, higher-placed staff must be deployed to lower-level duties, which in turn puts strain on those departments. Equipment for workers is poor. There is a faulty radar system whereby the aircraft tracks sometimes disappear, and management has failed to buy new headsets to replace the defective ones that make it difficult for air traffic controllers to properly communicate with pilots. The announced 6% salary adjustment for public officers has not reached the controllers and their increments have been delayed. As much as two years ago, workers contacted the Ministry of the Public Service and held meetings among themselves, to no avail. The bottom line is that Government must adjust the pay scale of workers in the Department to better reflect the necessity and importance of what they do, in light of the explosion of growth in air traffic and usage of the PGIA in recent years."
No word has been given by employees but a meeting with all ATC was held on Monday, February 23rd at 1:30PM where issues regarding the incident were discussed. "We are very happy that we were able to sit down and have the kind of discussion we did and we are moving forward. We are not at present working with the optimum amount of people needed. We hired 6 people last June, we are prepared to proceed to hire another 9 and to continue bringing the air traffic control unit up to full strength as soon as it is possible," said Garbutt.
The PGIA returned to normal operations on Tuesday, February 24th.
Follow The San Pedro Sun News on Twitter, become a fan on Facebook. Stay updated via RSS