Belize Welcomes MSC Divina
Saturday, January 2nd, 2016
BELIZE CITY, Belize, December 31, 2015 – Today, Belize welcomed the inaugural call for a new cruise
line. MSC Cruises had its first call today, with the MSC Divina landing in Belizean waters at approximately 8:00 am. The ship left from its home port in Falmouth, Jamaica on Monday, December 28th, making its way through Georgetown, Grand Cayman and Cozumel, Mexico, before arriving in Belize City, Belize. MSC Cruises is a division of the Mediterranean Shipping Company (MSC). It officially began operating in the cruise business in 1988. Between 2004 – 2014, MSC Cruises grew by 800 per cent, being today's market leading cruise company in the Mediterranean. They offer a wide range of itineraries in Northern Europe, the Atlantic Ocean, the Caribbean, Cuba and Antilles, South America, South Africa, Abu Dhabi, Dubai and Oman. In 2008, they were the first cruise company in the world to be awarded the coveted "6 Golden Pearls" for outstanding standards in environmental protection, health and safety.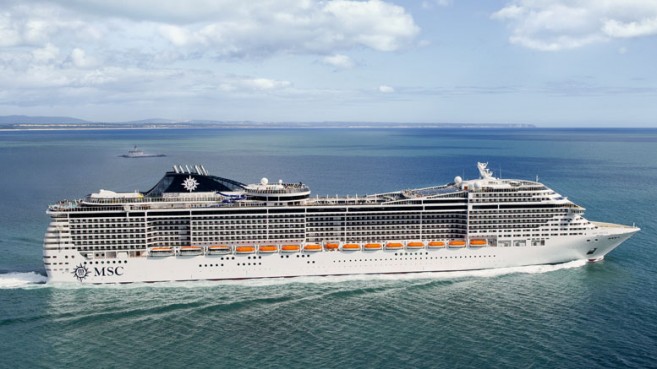 Director of Destination Planning and Cruise, Valdemar Andrade, commented "We welcome the new European cruise line, MSC Cruises, in their inaugural call to Belize. We are happy to have them as a new cruise line partner for our destination and we invite to discover how to be. The MSC calls are a part of initial calls to explore what the destination has to offer. The BTB and the Belize Cruise Port are working with them to increase calls subsequent to these. We certainly see the cruise industry remaining robust and well above 300 calls for the year at the Belize City Port. In 2016, there will also be an additional line calling as well." Mr. Elad Aharon, General Manager of the Fort Street Tourism Village, commented "Belize Cruise Port (FSTV) is thrilled to host the first in MSC Cruises' Fantasia Class, the Divina, in our magical destination. We are grateful for the opportunity to work with MSC and we are looking forward to support their growth in Belize."
The MSC Divina has a capacity of 3,502. We look forward to this continued partnership for Belize.
Follow The San Pedro Sun News on Twitter, become a fan on Facebook. Stay updated via RSS