Norwegian Cruise Line unveils Harvest Caye to first visitors
Wednesday, November 23rd, 2016
Norwegian Cruise Line's (NCL) privately owned island Harvest Caye, located off the coast of Belize, officially welcomed its first visitors from New Orleans, United States on Thursday, November 17th. The multi-million dollar investment represents a partnership between Norwegian and Belize, and is the first cruise ship port in the country thus far. After nearly a year of delays, the seven-acre island has been completed and features various amenities, including a large 15,000 square foot pool, private luxury beach villas, and various outdoor and water activities.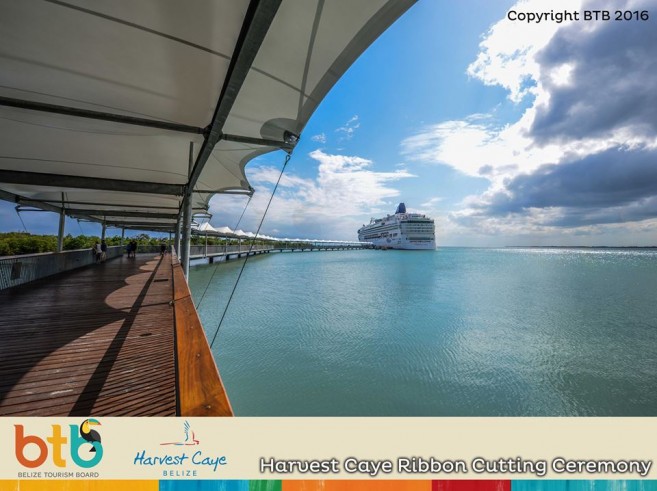 President and Chief Executive Officer of NCL Holdings Limited, Frank Del Rio, described Harvest Caye as the ultimate Belizean experience. "We are delighted to welcome our first guests today. We have worked closely with the government of Belize to ensure that that this spectacular destination was authentic for our guests, provided economic opportunities for the local community and preserved and protected Belize's incredible natural beauty. We're overjoyed with the results of this four year development project, and we look forward to seeing Harvest Caye and Southern Belize grow as we delight the many guests that will call on the destination," said Del Rio.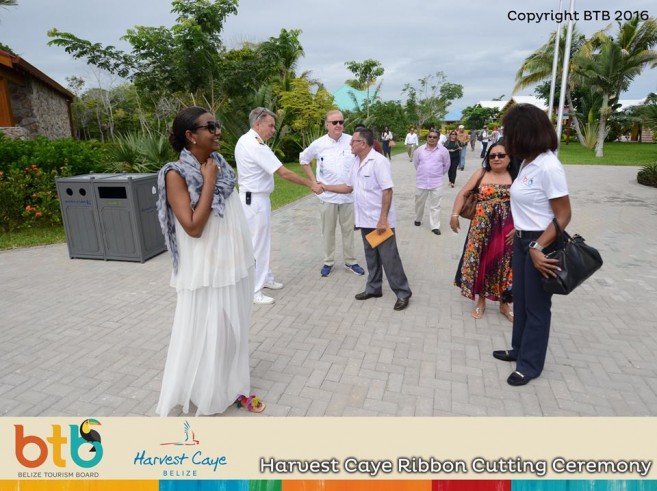 NCL's Senior Vice President of Destinations and Strategic Planning, Colin Murphy, mentioned that there are about 400 people currently employed at Harvest Caye, and their efforts have amazed him. "We put a team of 400 people, give or take, between us and Food & Beverage and we have one of our corporate trainers do a lot of training. I'm going to say 95% of the folks that you see working here have zero hospitality experience. We were so impressed by the quality of the people, by the attitude, by the big smiles and their willingness to learn so I'm very grateful. Finally, I've got to thank the government of Belize from the Prime Minister on downwards. To Minister Heredia my friend, and to every other minister in the government. Karen Bevans of BTB and her team, thank you very much for giving us this opportunity," said Murphy.
Minister of Tourism and Civil Aviation, Honorable Manuel Heredia Jr., acknowledged this occasion as another milestone in the tourism industry. "On behalf of the government and people of Belize, I would like to welcome you all to this important occasion. The arrival of Norwegian Dawn to Harvest Caye today is a milestone in the cruise tourism industry, but for this to happen. It needed a lot of people with open minds; it needed the support of a lot of people. One person in particular that comes to mind, [someone] who was up and down, back and forth, never giving up, is Mr. Colin Murphy from Norwegian Cruise Lines. I believe we owe him a big round of applause. Many times I thought that he would leave because of little hurdles that were around but he never gave up," said Heredia.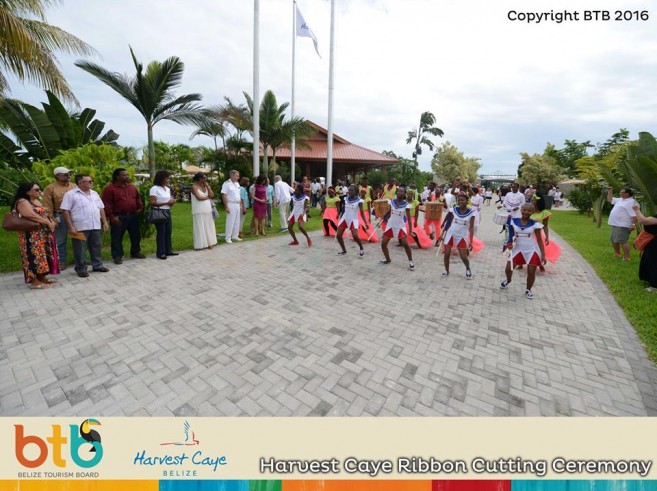 Chief Executive Officer of Provisions Belize Limited Dustin Bowen is assigned to provide all the food and beverage for the islands 4 restaurants and 9 bars. As he currently owns the popular Belize City restaurant and bar, the Riverside Tavern, his company Provisions Belize will cater to all of Harvest Caye's guests. "I have a passion for people; I have a passion for food and the culinary arts. After my studies, my intention—my commitment as a Belizean—was to come back to the country and spread that knowledge and wealth, to give my people the opportunity to do the same…We've had nothing but encouraging compliments and comments coming from all the cruisers. They say they've seen nothing like it before. The Zip lines, the activities, the food and beverage, everybody's very happy. Of course we're learning a couple of things…but it's all building data and knowing how to accomplish that within the next ship visit. This will definitely give Belize the justice it deserves because of the layout, the authenticity, when somebody visits Harvest Caye," said Bowen.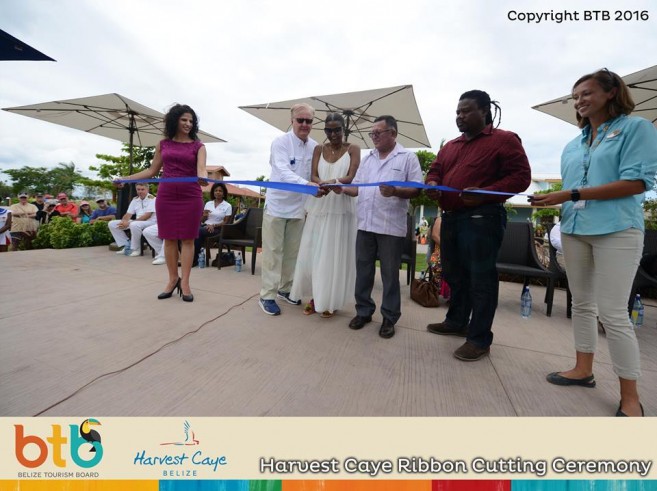 Stakeholders believe that Harvest Caye will definitely become a key tourism product for Southern Belize. A a call by Regent Seven Seas Cruises, another cruise line owned by Norwegian Cruise Line's parent company, is slated for January 2017.
Follow The San Pedro Sun News on Twitter, become a fan on Facebook. Stay updated via RSS