Ministry of Immigration and Nationality Services adjusts Immigration Fees
Thursday, May 14th, 2020
The Ministry of Immigration and Nationality Services introduced an adjustment to immigration fees effective on May 1, 2020. These new fees apply to entry permits, an extension of visitor's permits, employment permits, permanent residence permit, temporary residence, and even temporary border permits. The Ministry of Immigration says the last time Belize made adjustments to its immigration fees was around 15 years ago.
The new fees came after the Statutory Instrument, titled Immigration (permits and fees) (Revised amendment) No. 2 Regulations, 2020 was signed to allow the amendments to the fees. One of the concerns addressed by the immigration authorities was the issue of entry fees and extensions for those foreign visitors still in the country. Citizens that do not require a visa to enter Belize are excluded from paying any entry fees, however, if they wish to extend their stay beyond the authorized time, this is possible for a fee.
The previous monthly fee after the first 30 days in the country was $50 BZ, but as of May 1st, the new amount required for further extensions is $200 BZ per month.  
Who is subjected to entry fees?
The Ministry of Immigration outlined permit/visa fees for citizens of certain countries. Tourists, visitors, student's and dependent's permits for nationals of the People's Republic of China are required to pay $3,000 BZ for a single entry, and $4,000 for multiple entries (valid up to 12 months). Citizens from India, Nepal, Thailand, Burma, Bangladesh, Pakistan, and Sri Lanka are required to pay $750 BZ for a single entry, and $1,000 BZ for multiple entries (within 12 months). All other countries whose citizens may require a visa to travel to Belize pay a $200BZ entry permit fee. A student's permit is $100 BZ and dependents is $200 BZ for up to one year.
Temporary employment permit
Professional workers who hold a university degree are required to pay a yearly fee of $3,000 BZ. This same fee is applicable for self-employed workers such as owners or managers. Technical workers pay a yearly fee of $1,500 BZ, while entertainers performing in groups of two or more pay $1,000 BZ, in groups of six or more persons $1,500 BZ and $600 BZ for solo performers. The temporary employment permits for entertainers are usually good for one week or less.
In the case of seasonal workers in the agricultural sector, $150 BZ is required to be paid for every crop season and $1,000 BZ every year for managers or farm owners. Workers in the banana, citrus, or sugar industries are required to pay $300 BZ every year for their work permits.
Religious, cultural and volunteer permits are $200 BZ every year, while peddlers and waitresses, along with domestic workers pay a yearly fee of $1,000 BZ.
Permanent residence
Citizens of Central American countries, the Dominican Republic, and Mexico wanting to obtain permanent Belizean residence pay a fee of $1,500 BZ. European citizens must pay $6,000 BZ. Citizens of CARICOM countries pay $1,000 BZ, while citizens of the United States, Cuba and South America (except Guyana) pay $4,000 BZ. Citizens from the People's Republic of China and any other country not mentioned above pay $4,000 BZ to become a permanent resident in Belize.
There is also a 'Temporary Residence' which can be renewed on a yearly basis. This applies to those persons that for some reason (employment or business) cannot reside in Belize all year-round. The fee for this temporary residency permit is equivalent to 1/5 of the permanent residence fee based on country of origin.
The country continues to issue temporary border permits that go for $40 BZ per year and are usually used at the Western or Northern Border. These border passes also come in digital form and are good for three years, with a yearly fee of $40 BZ.
As part of CARICOM, Belize immigration laws accommodate the CARICOM Single Market and Economy Free Movement of Skills Certificate. Application for a new Skills Certificate is $225 BZ, the replacement is $50 BZ, while to upgrade, amend or verify the certificate, the fee is $25 BZ.
What countries do not require a visa to enter Belize?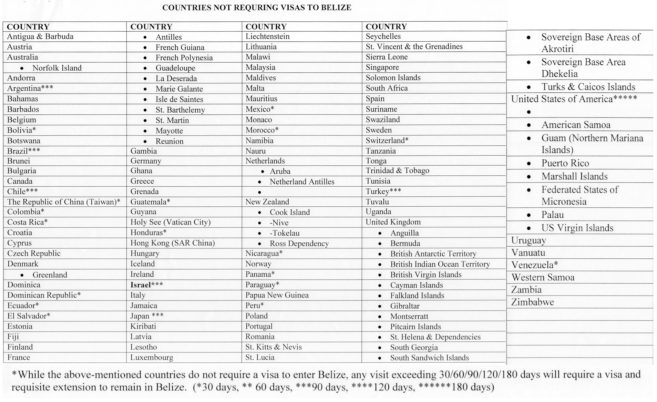 What counties do require a Visa to enter Belize?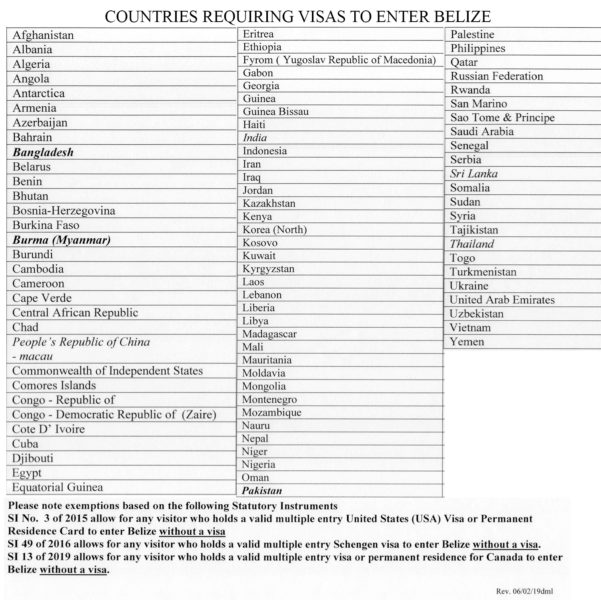 For more information on the fees, the Ministry of Immigration headquarters can be reached at 822-3860.
Follow The San Pedro Sun News on Twitter, become a fan on Facebook. Stay updated via RSS