Tropical Depression Nine loses strength as it gets closer to Belize
Thursday, October 23rd, 2014
The Belize National Meteorological Service is currently monitoring a tropical depression that formed on Tuesday, October 21st in the Bay of Campeche in the extreme southwestern Gulf of Mexico. While the 2014 Hurricane Season is scheduled to close on Sunday, November 1st, Belize is still not in the clear of any storm, as this tropical depression seems to be paying a visit to Belize.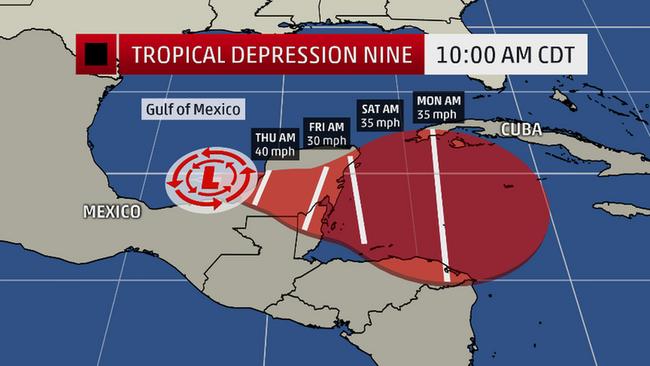 Known as Tropical Depression 9, the storm currently has sustained winds of over 35 miles per hour (mph) with stronger gusts. The storm carries heavy rains of up to 15 inches. Flash floods are possible. Tropical Depression 9 is moving eastwards at six mph. Tropical storm watch warnings have been issued for Mexico's Yucatan Peninsula from Celestun City to Frontera City. After crossing the Yucatan Penisula, Tropical Depression 9 is expected to merge with a cold front that is moving southerly in the area. If this is to occur, the intensification of the storm would diminish.
On Wednesday, October 22nd, The National Hurricane Center announced that Tropical Depression 9 has failed to strengthen before making landfall. Little to no change in strength was expected before the depression moved inland later in the nigh. There is a high possibility that the storm weakens even further as it moves towards Belize.
Residents are asked to stay in tune with their local and international weather report, and to take the necessary storm precautions.
Follow The San Pedro Sun News on Twitter, become a fan on Facebook. Stay updated via RSS