Heatwave to continue; stay inside and hydrated
Thursday, May 6th, 2021
The current days in Belize are hazy and warmer than usual due to a heatwave. According to reports from the National Meteorological Service of Belize, the hot weather conditions are expected to continue until the end of May. The general public is advised to limit their exposure during the hottest time of the day-10AM to 2PM and always keep hydrated with water rather than caffeinated drinks or alcohol.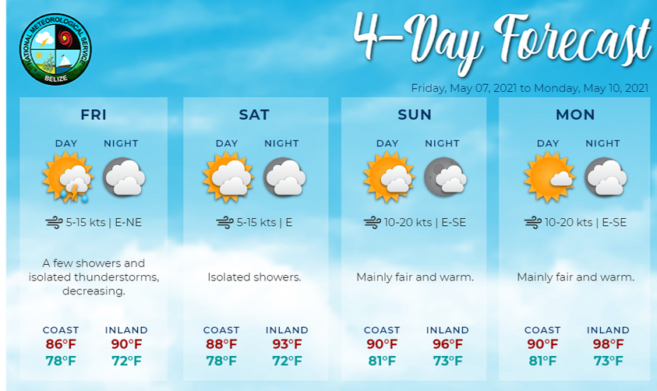 In San Pedro Town, Ambergris Caye, the sea breeze has not been enough to alleviate the sweltering weather. Daily temperatures continue in the high 80s F, and with the humidity, the temperature can feel much hotter. Many people are visiting the beach for wet relief. Anyone swimming in the sea is advised to learn how to swim, know your limits and be familiar with the water body.
The meteorological service recommends that if persons must be out during the peak times of the heat, they use sunscreen, wear a cap/hat, sunshades, and try to stay in the shade when possible. Some impacts of overheating can result in heat cramps, heat exhaustion, rashes, and even heat stroke. The ill and elderly or very young should be monitored.
Island residents are also advised to monitor the four-day forecast for changes. This report provides essential information on the weather, and people can see when the upcoming rainy season will start.
Follow The San Pedro Sun News on Twitter, become a fan on Facebook. Stay updated via RSS