San Pedro's Youth face many issues
Friday, January 2nd, 2015
As the population in San Pedro continues to grow, the island is also registering an increase in issues involving youth. Youth are becoming more involved in criminal activities at a young age which is leading to unnecessary problems. While many prefer to give this problem the blind eye, a solution must be found in order to ensure that the youths grow up to be successful citizen.

According to the Statistic Institute of Belize's 2010 census, 36% of the population is in the bracket of 0-14 years of age. Youth Coordinator for San Pedro and Caye Caulker, Lincoln Flowers has stated that in the past year the island has seen an increase in child related problem. Some of the youth problems San Pedro is facing include juvenile delinquency, teenage pregnancy and sexual reproductive health, poor education system and high school dropout rate, drug and alcohol abuse and overall disrespect of authorities. "One of the major issues is the abuse of alcohol and drugs. It is common for teens to be experimenting with liquor but what we are facing is that these underage youths are abusing these substances and even falling into drugs," said Flowers.
While all youth problems are important, drug and alcohol abuse are at the forefront and it can lead to further issues including theft, burglary and increased violence. "We see that children that live in these neighborhoods where there are drug dealers or if their parents consume these substances, then the child is most likely to do the same. I would say that the age range that presents the most youth issues is the 11-17 age range. This is the time when youth are more social and tend to be peer pressured into doing things that they would otherwise not do," said Flowers. The 11-17 age range is considered a time when youth begin developing their personal identities and redefine their lives. "At this age they are vulnerable and easily follow trends they see or hear on the internet, televisions, music or their surroundings in general. Teen in particular face constant peer pressure and do things that they might not always be their sound choice. This can lead to several problems in society," said Flowers.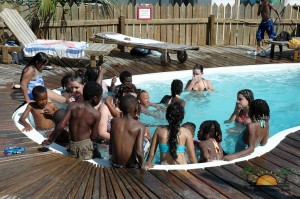 Many youth problems stem from home and school. "There are many contributors to youth problems, but one of the main ones is the environment a child lives in. This involves everything from the home and parents to school and teachers and friends. To deal with youth issue we need to take a holistic approach and get the entire community involved. We need more government investment for our youth. More recreational facilities, better education opportunities and counseling for youths having issues. Youth problems are everyone's business, even if you don't think so, because in the end they are our future. About 75% of our populations is made up of children and young adults under the age of 35. We need to foster this age group and mold them into better citizens," said Flowers.
In order to avoid youth problems parents should set guidelines, rules and regulations that children should follow. "It's all up to us the adults to assist our youths in making them productive citizens. It starts from home so parents should discipline their child and ensure that they are behaving. Do not wait until it is too late to intervene. The minute you see a problem or that your child is not acting as usual, talk to him/she and correct them if necessary. It is also very important for youths not to be out late at night. A child that is out on the streets unsupervised at night can fall into many problems. We also need government intervention. Local governments need to ensure that there are facilities and activities to address youth issue. We ask that everyone takes the time to listen to what the youths have to say as only like that can we truly identify the problem," said Flowers.
To learn more on youth problems or to discuss any issues involving children please contact the Belize National Youth Council at 827-0181 or contact the Ministry of Education, Youth and Sports San Pedro Branch at 226-4742.
Follow The San Pedro Sun News on Twitter, become a fan on Facebook. Stay updated via RSS