Los Yonics gets a warm welcome from islanders of Ambergris Caye
Saturday, August 3rd, 2013
The Tropic Air Terminal in San Pedro Town was packed by islanders who came out to welcome the well-known Mexican band, Los Yonics. The band, which has over 37 years of musical success in Mexico and Latin American countries will be for the first time in Belize performing at the International Costa Maya Festival. The group arrived shortly after midday on board a Tropic Air flight from Corozal Town.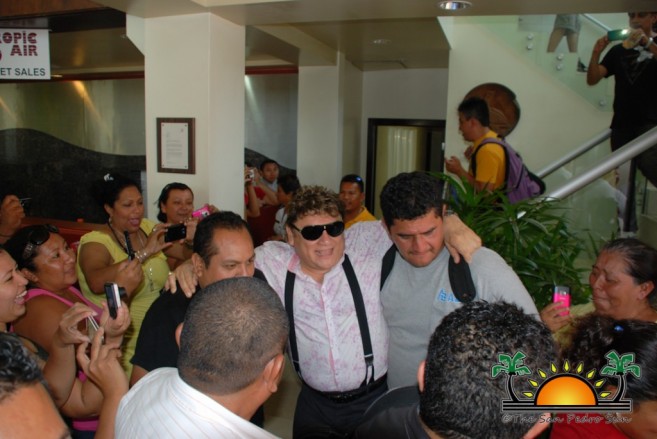 "Beinvenidos a la Isla de San Pedro (Welcome to the island of San Pedro)," shouted their many fans, who had come out to welcome the musical group. Speaking at a press conference shortly after touching down on Ambergris Caye soil, the band members shared their enthusiasm for being in Belize. "First of all I want to say thank for the very warm welcome. I am extremely happy to be on Belizean soil for the first time in my musical career. The entire group is happy to be in this beautiful place. We come with all the energy in the world, to be able to perform as much songs as possible," said lead vocalist Jose Manuel Zamacona
The band, consisting of nine members, will be the main attraction at the Costa Maya Festival today Saturday, August 3rd. "Today is our only day performing in Belize and so I want to invite everyone to come and enjoy our music live from Ambergris Caye. We will sing all those songs that you hear and see us perform on television and on the radio. You will also have the opportunity to met us and take pictures with us. Being with you Belizeans is another blessing from God granted in my musical career," said Zamacona. The main vocalist also took the opportunity to interpret one of the band's most famous song, "Palabras Tristes."
According to the bandleader, their trip to Belize comes very timely since in a few weeks from now, they will be launching their new musical album entitled Zamacona. Zamacona said he will be performing some of his songs that are a part of the new album. In addition, the band is also gearing for the musical tour across several states in the USA.
Jose Manuel Zamacona and Los Yonics will be the main performance at the festival. Tickets for the show are still available and can be purchased at the door for $100 Bze.
Photo Gallery
Follow The San Pedro Sun News on Twitter, become a fan on Facebook. Stay updated via RSS