San Pedro Classifieds & Notices
PETS
*Dogs, Cats, Puppies & Kittens for adoption at Saga Humane Society. Stop by Saga Veterinarian Clinic and meet your new best friend. Call us at 226-3266.
NOTICE
Liam Investment Ltd., hereby declares that vessel (Great Fortune) registration certificate BZ-1417 has been lost.
VACANCY
Vacancy: Breakfast Cook: 7am to 11am, 6 days per week at Secret Beach Boutique Hotel. Must have relevant references that will be verified. Be fluent in English. Transportation a must. Fast learner. Please email resume to [email protected] or WhatsApp 670-7270
Vacancy: Wanted Kitchen Assitant at Celi's Deli. Interested call 633-0372
Vacancy – Full-Time vacancy at White Sands Dive Shop for a front desk assistant. Located 6 Miles North of San Pedro. Kindly send resume to [email protected]
Vacancy – Marine Mechanic Engineer: Must have at least 10 years of experience, capable of serving and repairing all series of GM Diesel Engines, Must be vaccinated and have clean police record: Contact Lew 1 Shipping at 649-941-5707 email: [email protected]
Vacancy: Kitchen Helper Wanter. Most be fully vaccinated. Interested person's can call 615-6562

Vacancy: Vacancy for a chef and a staff cook now open. Applicants can send resumes and 2 letters of recommendation to [email protected]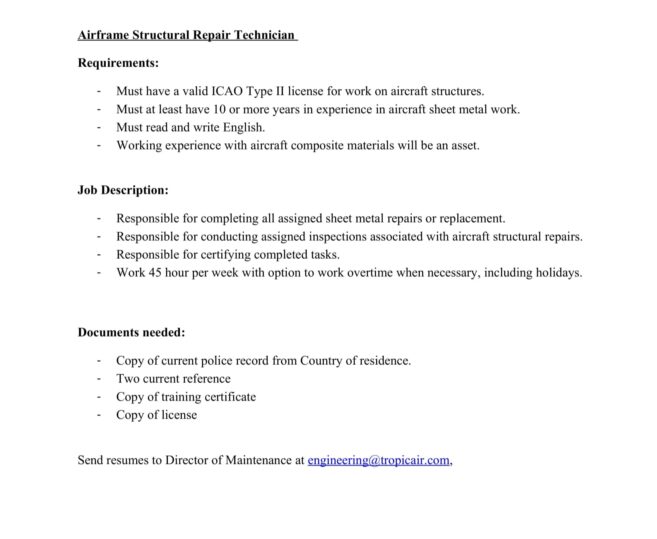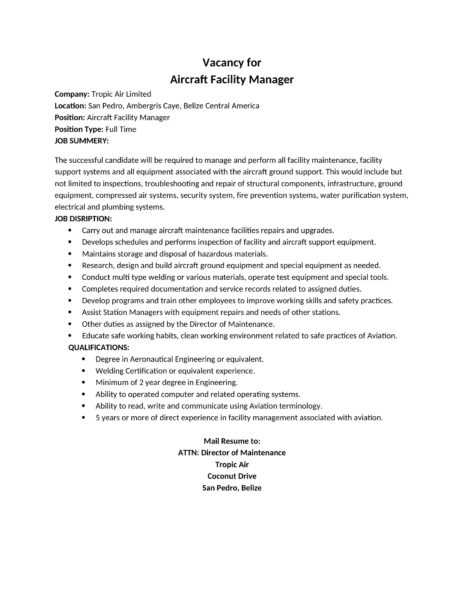 Vacancy: Interviewing and hiring kitchen prep and helping at Akbol Resort. Experience helpful, pay based on experience. English speaking, please. Interested call 626-6296
Needed : Front Line Chef for The Land of the Lazy Lizard. Qualification needed: Minimum of 3years experience. Resume and 2 letters of recommendation Send all documents to : [email protected]
Vacancy: Wings plaza apartment complex is looking for a maintenance worker. Interested persons call 226-3363
Vacancy:  Caribe Island Resort is taking applications for a maintenance supervisor, must have experience and knowledge of electric, plumbing, and HVAC. Please call USA (614) 419-3822.
Vacancy for a bartender now available. Must have experience and be able to reside on site. Please send a resume and two letters of recommendation to [email protected]
Vacancy: Caretaker needed for property. Call 608-1185
Vacancy: Maintenance worker needed. Must like animals. Call 608-1185
Vacancy- Accounting Clerk: ECI Development is seeking an energetic and well organized person to join the accounting department in San Pedro. Accounting Clerks' responsibilities may vary, depending on their level of experience and the business. Candidate must reside in San Pedro or be willing to relocate at his/her cost.
Initial Qualifiers:
• Advanced Knowledge of Quickbooks – (Online experience a plus)
• High level of attention to detail
• Extensive experience in data entry, maintaining ledgers, ensuring payments and receivables are current, or coding documents according to ECI procedures.
Additional duties and responsibilities will include:
• Using bookkeeping databases, spreadsheets and software
• Posting financial transactions in databases
• Receiving and recording vouchers, cash and checks
• Producing a variety of reports including income statements and balance sheets
• Checking for accuracy in reports, figures and postings
• Reconciling and reporting any discrepancies found in the records
• Interacting with management, clients and vendors.
Send your complete resume and references to [email protected]
FOR RENT
For Rent: Office Space Rental in Island Galleria Building facing Anglers Restaurant. Includes private bathroom. 342 sq ft. $1,500 per month. Utilities separate. Call: 610-2262.
For Rent – upper unit – 2 bedroom, 2 bath, office, veranda, pool on the ocean. Lower unit 2 bedroom 2 bath. AC, washers/dryers – long-term rentals.  [email protected] +501-628-9564
FOR RENT:
Upper unit – 2 bedroom, 2 bath, office, veranda, pool on the ocean. Lower unit 2 bedroom 2 bath. AC, washers/dryers – 30-day minimum.
[email protected]
 +501-628-9564
FOR RENT: Rooms and apartments for rent on Princess Drive and DFC. Call 608-1185
FOR RENT: Rooms and apartments for rent in DFC and by Living Word Church. Call 608-1185
FOR RENT: 1- bedroom apt. furnished $650.00US plus Electricity,–Water and Internet FREE."Sunnyside Apartments" on Sailfish Drive (near Marina Store and Xanadu). Call Jonathan 610 6510 for more information
FOR RENT: Long term, 2 Bedroom Condo, Fully Furnished secure top floor, 2 buildings north of Ramon's, Rear unit, Beach front, Walking distance to town, across from Carlo & Ernie's Runway Bar, Beach and Sundeck access. $850us/mth includes Water. 630-0991
Rentals: Apartments and Houses for long-term lease available starting at USD$500. Contact Ana Lausen at 600-3579 or [email protected]
BUSINESS OPPORTUNITIES
Investment opportunity: We seek working joint venture partners with capital to build two condo projects on our land in San Pedro at Boca Del Rio. We also seek a joint venture partner to build and operate an Ecotourism facility at the mouth of Deep River in Toledo District. [email protected] John at USA 801-448-8954 or Skye at USA 801-529-3680.
For Sale: Thinking of starting your own construction business? Then this may be your perfect opportunity. A duly incorporated and registered construction company with a valid trade license to operate in San Pedro. Ready to take on your first Construction project. US$10,000.00 No assets included.  email: [email protected]
For Lease: Thinking about starting up your own business on Ambergris Caye but don't have much for starting capital?  Here is a perfect opportunity. Hideaway Lounge, which is located above a popular nighttime dinner-only restaurant, is available for lease. The Lounge is within walking distance of Alaia -Marriot, Victoria House, and the Hilton Resorts. The business is fully equipped with modern bar equipment, a DJ system, and lounge furniture, dance lights, and much more. It can be run as an upscale daytime cafe and as an upscale wine & martini lounge at night. The lounge will benefit from the affluent restaurant customers. Comes with a liquor license, website, and much more. For more information email  [email protected]
PROPERTY FOR SALE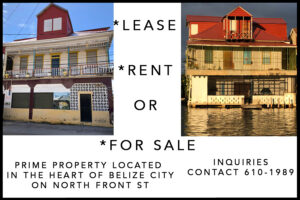 For Sale: Corner Canal lot across from Captain Sharks Marina. Double lots with 270' of canal front. Seawall in place. $65,000US for both. 620-4996
For Sale: Mainland Properties for sale by owner. Bullet Tree Village. 10 minutes from San Ignacio Town. Hilltop lots with views and a short walk to the Mopan River. From 5-10,000US. Adjacent 20 acres of farmland $149,000US. Mopan Riverfront house lots directly on Paslow Falls: $65,000US. All with road front, power, and water. Terms available. 620-4996
BOATS & WATER VEHICLES
For Sale: Fiberglass 28 foot boat hull trailer transom floor flying bridge for sale in Belize City $21000BZ. Call 628-2996.
For Sale: 26' Pelican with 2015 75HP Yamaha hardly used 125 hooves, hydraulic steering, lights, controls, canopy, anchor & lines, new bottom paint, 2 tanks, rod holders, runs excellent! $17,900US (go no lower). In the water and ready to go. 620-4996
VEHICLES
For Sale: New and used golf carts. Contact Captain Shark's at 226-3156.
For Sale: 2014 Polaris Ranger 900 for sale, $15,000 USD OBO. Excellent condition, just spent $6,000USD to completely rework all steering, suspension, new tires and re-coat frame. US Contact number +1 210 241 0548. [email protected]
SERVICES
BOATS, WE DO IT ALL: Professional Quality workmanship. Bimini tops, seats, upholstery, gas tanks all sizes, all accessories, stereos, gauges, fiberglass, paint, trim, decals, names, rigging, mechanical, steering, lighting, electrical. You name it we do it. Top to bottom.
Email [email protected]      Phone 615-8754
Security Service: LAG Security Service, located at DFC Complex. 670-3782.
Consulting Services: Decorating. Home Staging. Renovations. juliebabcockdesigns.com [email protected] text: 614-1499
~~~~~~~~~~~
Classifieds are $0.25 per word, plus 12.5% GST (75-word limit). Premium classifieds (with a small photo & 25-word limit) are $27 per week.
To Place Your Classified ONLINE, email us at

[email protected]