Construction worker falls from building in northern Ambergris Caye
Monday, August 28th, 2017
A construction worker, identified as 28-year-old Oswaldo Mancia, is lucky to be alive after falling headfirst from the second floor of a construction site in northern Ambergris Caye. Mancia suffered injuries to his right side of the face and severely broke his right wrist. He was airlifted to Belize City where doctors will attempt to save his hand, which according to them is in very dire condition. Meanwhile, island residents once again ask government authorities for a proper medical facility on the island.
The accident happened shortly after lunch on Monday, August 28th when Mancia was on the second level of a building making some measurements.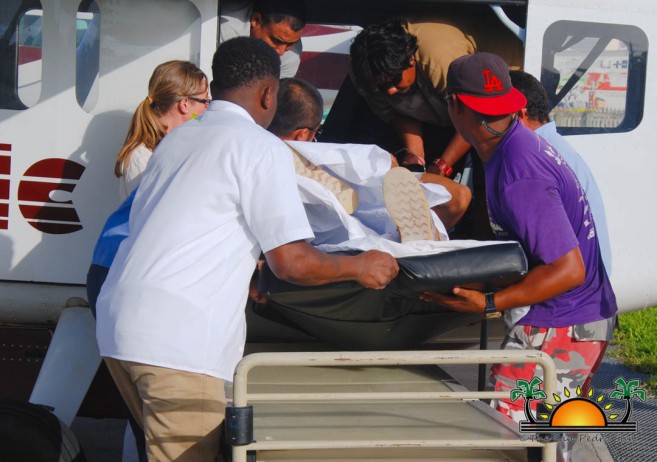 According to some of his co-workers, he had just returned from running some errands in downtown San Pedro. "It happened so fast," said one of his co-workers." I saw him up there and I even said hi to him, but then after a minute or so, I heard that he fell down." Apparently, Mancia hit a concrete area of the building before hitting the hard floor at the foot of the building.
According to eyewitnesses, who assisted him, it appears that he tried to break his fall with his hand, causing his severe injuries. He was quickly transported to the Dr. Otto Rodriguez San Pedro Polyclinic II where he was stabilized. Mancia's injuries needed immediate surgery intervention, a service the polyclinic does not count with. The decision to transport him to Belize City for further medical treatment was made, but before he could be airlifted, several minutes passed as they waited for a plane to be made available. This infuriated some of his co-workers that accompanied him to the clinic. "If he was to die, he would be dead by now," one of them called out.
Others brought up the topic of the need for a hospital on the island. They emphasized that Ambergris Caye provides the government with so much in tax revenues, but yet, the prime tourism destination in the country continues without a proper medical facility. "We really need a hospital on the island, this can't continue happening… Yes the island is growing fast, attracting investors and more tourists, but yet the most important thing is missing- a hospital or proper medical facility," said one concerned onlooker.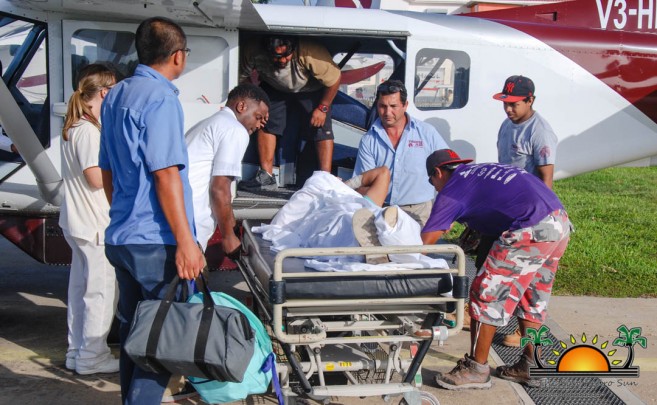 In 2015, Honourable Pablo Marin, Minister of Health spoke about a hospital for the island, and committed to lobby Central Government to improve the health sector of the island. It was revealed that a $20 million investment would be needed to erect the hospital. "The ball is rolling," stated Minister Marin. "And there is a lot more in store for San Pedro."
Marin's statements were also backed by Minister of Tourism and Civil Aviation and Area Representative for Belize Rural South, Honourable Manuel Heredia Jr. Heredia announced that Government was moving one step closer to completing a loan application in order to acquire funding for a hospital. He also added that the Ministry of Health had done its due diligence. "All the necessary works have been done. I believe it is a project that will see the construction of a state-of-the-art hospital for the island," said Heredia. However, no timeline was given as to when the project would start, just that the Cabinet was fully engaged in the process.
To date, there has been no more discussions about when the island will be provided with a full-service medical facility. Island residents fear that there is long wait before Ambergris Caye will see a well- equipped medical facility after the Government of Belize recently made cuts to the Ministry of Health budget for the current year. Thus, no funds have been allocated to start building a hospital on Ambergris Caye.
Follow The San Pedro Sun News on Twitter, become a fan on Facebook. Stay updated via RSS