PROJECT EARTH 2015: Atlantic Bank Helping Reduce Overdraft on Nature
Friday, April 24th, 2015
Atlantic Bank Ltd, in collaboration with Institute for Sustainability of Community and Environment (IN.S.C.E) and a group of women have engaged in an initiative to help reduce the overdraft on nature, while at the same time taking a simple action to help reduce poverty through an income generating activity. The initiative includes underprivileged women sewing bags that can be used for everyday activities. Through the creation of beautiful hand sewn bags using natural fabrics in earth colors, these women receive a much needed additional income. These women that are ultimately working hard to advance their children's well-being and on this Earth Day "it's our turn to lead" as Atlantic Bank Ltd. will be giving out these bags to all its customers.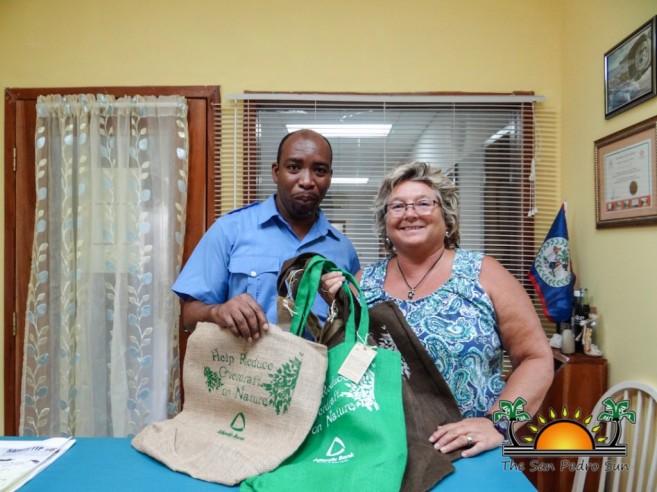 On Tuesday, April 22nd people joined hands worldwide to celebrate the 45th anniversary of Earth Day. Globally, citizens are working together to educate and inspire others to take simple actions that can prove to be powerfully beneficial to Planet Earth and its inhabitants. Atlantic Banks Ltd. hopes to accomplish the same as this collaboration indeed lies at the heart of innovation and so this tripartite partnership is a meaningful activity to celebrate Earth Day. Green is the predominant color in nature, and today it's associated with environmentally-friendly choices and lifestyles.
Here are the stories of three women that benefit from this initiative:
Araceli's Story

Araceli has eight children; two of which were left by her sister who passed away some time ago. While she was struggling with her six children, she found it within her heart to adopt two of her sister's children.
She firmly believes that her children need an education if they are to improve their livelihoods and so with great pride she shares that one of her recently graduated sixth former just got employed. Three are still in high school and two are in primary school. Their age ranges from age 6 to 23. While her husband is employed and she has worked at several sites she is always eager to make an extra dollar that will be used towards the education of her children. She sews clothing, makes plantain chips, sells food and participates in any other form of income generating activity that is honest. Not having enough income especially for education has been a source of worry for their entire family.
"My sister must be happy to know that her children will be educated just like mine as I will ensure that they have whatever they need for their schools" said Mrs. Araceli. "They say that school is free in Belize but the reality is that all types of fees must be paid if children are to remain in school and the fees from primary to secondary schools can really add up. So I work hard daily and so do my children as they help me in whatever I do to generate income that we need."

Dominga's Story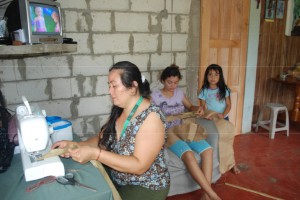 Dominga, another participant was extremely happy to collect her income which she would use to invest in a new sewing machine as her old second hand machine was not working well. The thought of using her new machine to earn additional income by sewing neighbors' school uniforms was one of excitement.

Francelli's Story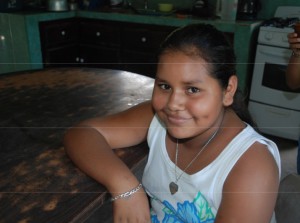 Francelli was one of the 17 children that will benefit in the long run from the income generated from the sewing of the bags. She dreams of becoming a teacher and is working hard to enter high school because she wants to be a productive citizen educating others and she wants to be able to take care of her mom when she becomes an elderly woman and be able to pay her back for all the sacrifices and hard work her mother has done.
If you want to go green, visit us at www.atlabank.com where you can find several tips to get you started.
We wish all our customers a "Happy Earth Day" and we know that you can help us to reduce the overdraft on nature through simple actions such as paperless banking and use of reusable materials including our loving bags!
Follow The San Pedro Sun News on Twitter, become a fan on Facebook. Stay updated via RSS