In Loving Memory of Stephen Alexander "Papi Box" Manuel
Sunday, April 20th, 2014
Sunrise October 10, 1956
Sunset April 11, 2014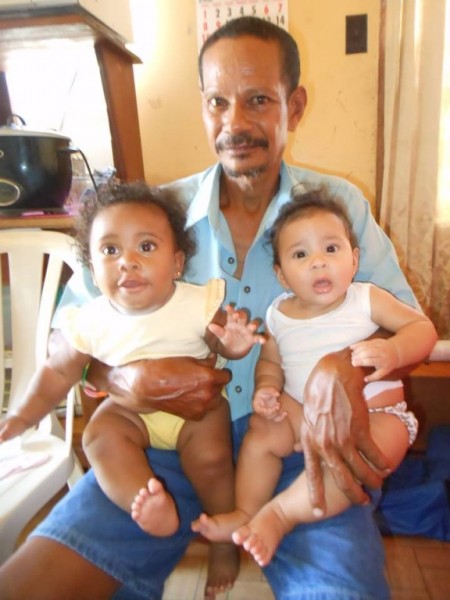 Stephen Alexander Manuel was born on October 10, 1956 in Belize City to parents Charles Manuel and Fidelia Rodriguez. As a child, he was very jovial and loved to play, often getting into mischief. He grew up lovingly among four sisters who to the very end, he cared for and protected.
He ran away to San Pedro at the age of 11, fending for himself since then. On the island he became another member of the Dawson family, living with Mrs. Clementina and Dan Dawson. Carrying his full weight, at that age he became one of the island's electric plant operators. He worked alongside men such as Mr. Gualberto "Wally" Nunez and Omar Arceo turning the electricity on and off for the island day in and day out.
¬A hard working young man, Papi-Box as he had become locally known, later became employed by Milo and Evelia Paz at their restaurant and bar. The Paz family became a part of him as well with Mrs. Evelia offering motherly advice to him along the way. There is where he learned and fell in love with the bartending lifestyle. Always joking around, playing pranks on people and his lively demeanour drew the crowds in and he most certainly providing good times to all.
Papi Box met Vicenta Pinelo who worked at the island's fishing cooperative and the two fell in love. Their union was met with the joy of five children; Kainie, Stephanie, Stephen, Nathalie and Ian. A loving father Papi strived for the best for his kids. Purchasing a piece of property on the island, cemented his life in San Pedro and he continued to work as hard as when he was a young boy selling recado from home to home.
Having to take care of his family, Papi found his next employ at Bowen and Bowen driving both the tractor and the company's blue Toyota truck he made his delivery rounds around the village. He remained a part time bartender, a job that brought him in contact with many who became his long-time friends. Bars such as Ambergris Lodge, Fido's, Holiday Hotel and Ramon's Village's special events.¬¬
Coupled with his wife's cooking ability, Papi's Diner was born. Providing delicious meals for the island, Papi's Diner grew from just a dinner menu to being a full three meal service. His repeat customers would visit for not only the meals but Papi's company as well. Many of them coming during the restaurant's slower hours to interact with him.
A loving grandfather, a father, husband, brother, uncle and friend, Papi will forever be remembered with a smile and a warm heart, always willing to lend a helping hand. May your soul rest in peace.
The Manuel family would like to thank Dr. Daniel, the kind people who brought wreaths, those who sent sympathy cards, and family and friends for their loving support during their time of bereavement. They would also like to thank the management and staff of The Victoria House and of the San Pedro Town Council for their assistance, as well as the San Pedro Lions Club.
Follow The San Pedro Sun News on Twitter, become a fan on Facebook. Stay updated via RSS