Surcharge on credit card is illegal in Belize
Monday, September 1st, 2014
The issue of surcharges on the use of credits card in Belize has resurfaced. Several customers on Ambergris Caye have been complaining that they are being hit with surcharges when they use their credit cards at various businesses on the island. But according to Belize banking rules, it is illegal and in fact, criminal to do so, and if you are subject to surcharges, you can complain to the right authorities.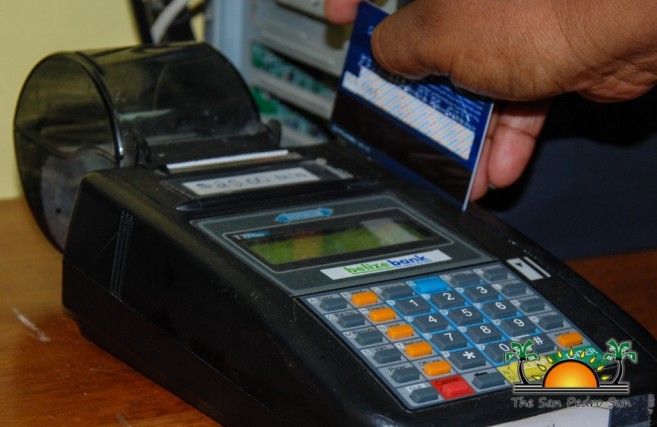 A surcharge is an additional fee that a merchant adds to a consumer's bill when a credit card is utilized for payment of goods or services. But in Belize, all banks offering credit card service abide by US Visa and Master Card regulations which do not allow for surcharges, with the exception of ten states in the United States of America.
According to US documents on credit cards, currently there are laws limiting surcharging to California, Colorado, Connecticut, Florida, Kansas, Maine, Massachusetts, Oklahoma, Texas and Utah. But because Belize falls within the Latin American and Caribbean regulation on credit cards, and because banks in Belize abide by Visa and Master Card regulations, it is prohibited to surcharge on credit card use (whether charging Visa, MasterCard, Discovery or American Express).
But what can consumers do who are victims of surcharge? The San Pedro Sun has put the question to the Central Bank of Belize, but up to press time has not received a reply. Individual banks however, have their own policy in place on how they address such complaints. Customers who are being surcharged for using their credit card can visit their respective bank and file a complaint. You are encouraged to provide the correct name of the business, provide copies of receipts showing the actual amount for either goods or services, along with the credit card receipt slip.
For further information on credit card surcharges, you are encouraged to visit your local bank for more details.
Follow The San Pedro Sun News on Twitter, become a fan on Facebook. Stay updated via RSS