Tourists fall victim to credit card fraud on Ambergris Caye
Thursday, January 23rd, 2014
For over a year, tourists to Ambergris Caye have been claiming that they have been victims of credit card fraud. The matter simmered down after those operating the scam got wind that the Ministry of Tourism and Culture was alerted and hadasked for the intervention of the Financial Intelligent Unit (FIU) and local police. However the credit card fraud operatives are back at it again. Recently, two victims have gone public with their cases. According to the visitors, the only common place they both used their credit cardsat was at a local golf cart company.
The victims first posted their experiences on TripAdvisor and indicated that the fraudulent charge apparently came from Ethan's Vege Store. "While there (on Ambergris Caye) we paid cash mostly and only used our credit card two times, once with a reputable cart company and once with a reputable tour company. Now looking at my credit card statement I see that I have charges for over $300 for Ethan's Vege Store with the transaction date the day after we returned to California. We can't think of anything else that would have cost over $300US, especially not groceries. Ethan's also charged a smaller amount of $26 first, which is apparently what credit card fraud people do the 'test the waters' so to speak," said one of the tourists from Belmont California USA.
In an interview on Wednesday January 15th with the second other victims from New York, they said that they went through a similar ordeal and noticed the fraud while they were on their second day of vacation on the island. "We had the same fraudulent charges from Ethan's Vegetable Store. Two charges posted on January 6th for $133 and $126, and one posted on January 7th for $107. The only two places we swiped our credit card was on January 6that the airport at a local airline and a local golf cart rental," said the tourist, who spoke to The San Pedro Sun on the condition of anonymity. Because of the nature of the incident and given the fact that BTB is still uncovering the issue, The San Pedro Sun has withheld the name of the golf cart business pending investigations.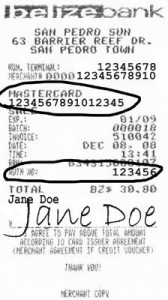 For the tourism authorities in Belize, credit card fraud is nothing new since in the past, they had asked the local authorities to investigate similar incidents of tourists that were victim of credit card fraud while vacationing on Ambergris Caye. "These allegations are serious and we at the Ministry of Tourism and Culture take it extremely seriously. We know that was happening and we had asked the police to investigate the matter. We are hearing of it again. We will be asking the Belize Tourism Board to follow through and request an investigation urgently," said the Minister of Tourism and Culture Honorable Manuel Heredia Jr.
"Luckily for us we caught up on it while on the island and managed to cancel our credit card with our company. However it is an inconvenience as tourists who go to a particular country to enjoy it. We love Belize as a country and it is clear that the majority of people are genuine and make us feel welcome. However, when we go through these experiences it leaves a bad impression. It impacted our experience because we were unaware if we could trust anyone after that. We felt that we were vulnerable and we were in fear at one point," said the tourists from New York.
The Belize Tourism Board (BTB) Director Laura Esquivel Frampton called the incidents "unfortunate" and explained that the BTB will be moving swiftly to address the matter. "We have a team that monitors TripAdvisor and we will ask them to follow up on that. It is definitely something that as we see more progress and as we see more tourists, there arepeople who use these great numbers for their personal gains in a negative way. It is something that has to be addressed swiftly and we will be bringing it up with the right authorities both the police and the FIU.It is unfortunate and something that needs to be addressed. It undermines all the work we do to try and promote Belize as a viable destination where you can come and have a really great vacation."
Of interest to note that one those involved in the illegal business of credit card fraud use the credit card number to apply charges. The number, which is confidential, is printed on every credit card receipt which is a requirement by international banking standards. The number serves as a security feature to your credit card and if it falls into the wrong hands, that person can use the credit card number to make fraudulent transactions. It is the responsibility of both the banking institution and merchant to keep all receipts confidential. As a customer, you can mark out the numbers upon signing the credit card receipts. While there are various procedure customers can follow to dispute a fraudulent transaction, local authorities want to address the matter.
The BTB said that while they will be moving swiftly on the matter, they are advising tourists who have been victim to credit card fraud to make a written notarized report to the BTB who will turn it over to the police and the FIU for investigation. To contact and make a report to BTB, you can do so through their website at www.travelbelize.org. For more information you can call BTB toll-free at 1-800-624-0686 or in Belize at 227-2420.
As of press time, neither the FIU or the San Pedro Police have been contacted by BTB concerning the above mention incidents.
Follow The San Pedro Sun News on Twitter, become a fan on Facebook. Stay updated via RSS