Prime Minister Expresses Condolences to Family of Special Constable Danny Conorquie
Monday, September 29th, 2014
Press Release- September 29th, Belize Press Office-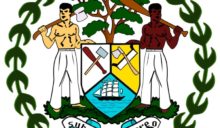 Prime Minister Hon. Dean Barrow and the Government of Belize join the rest of the nation in expressing deepest condolences to the family of Special Constable (SC) Danny Conorquie, murdered in the line of duty while seeking to guard and protect Belizean patrimony. The Prime Minister has spoken personally to SC Conorquie's next of kin, and offered every assurance that the ultimate sacrifice made by this Belizean hero will not be forgotten. While nothing can bring him back or properly console his loved ones, the Government commits to looking after the financial welfare of his immediate survivors.
At the same time as expressing sorrow, the Government of Belize also expresses outrage at the heinous nature of the killing, and condemns the perpetrators of the dastardly act. There are reasons to believe that Guatemalan nationals may be
responsible for the shooting and this has been communicated to the Guatemalan Authorities and the OAS. The Guatemalan Foreign Minister expressed his government's regret over the death of the Belizean Special Constable and offered full
collaboration in the effort to bring the perpetrators to justice.
Every effort will continue to be made to strengthen the security arrangements in the border areas. It was only last Friday, after much planning, that the Belize Defence Force launched Operation Incisive Gallop, designed to clear illegal incursions into
our national territory. The first of three new border outposts is nearing completion, and our capacity to deploy security forces more rapidly and effectively in the jungle is also being reviewed. Government is determined to do everything possible to
safeguard Belizeans and to prevent any repetition of harm to our Security personnel.
Follow The San Pedro Sun News on Twitter, become a fan on Facebook. Stay updated via RSS