Islanders remanded to the Belize Central Prison for possession of 3.4 kilos of Cocaine and nearly $10K
Tuesday, September 8th, 2020
After being detained in San Pedro Town last week for the possession of over three kilos of cocaine and close to $10,000 cash, islanders 21-year-old Jaime Hernandez, 18-year-old Ethan Bardalez and 21-year-old Leon Williams, were arraigned in Belize City on Monday, September 7th for the charges of Possession of a Controlled Drug with intent to supply. They pleaded not guilty during the arraignment at the Magistrate Court, but due to the nature of the crime, bail was denied and they were remanded to the Belize Central Prison until their next court date on October 26, 2020.
The trio appeared before Chief Magistrate, Sharon Fraser in the presence of their attorney Richard 'Dickie' Bradley. They were read a single charge each of Possession of a Controlled Drug with intent to supply for the purpose of drug trafficking. Despite pleading not guilty, bail was denied, and the three island residents were remanded. However, their attorney is expecting to file bail applications for the trio by Friday, September 11th to get them out via the Supreme Court.
The Drug Bust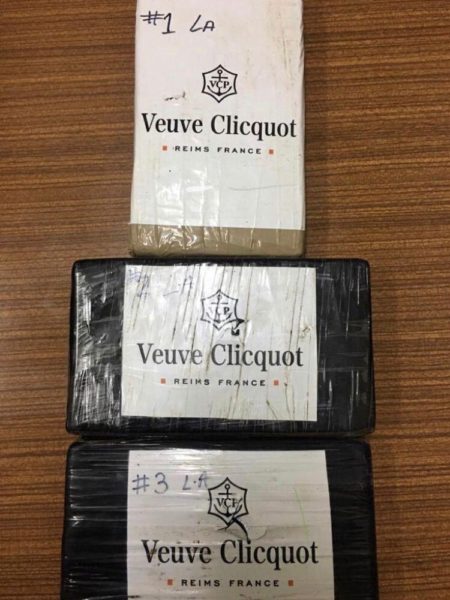 According to a report, on Thursday, September 3rd, around 8:40PM police executed a search warrant at the lower flat of a two-storey house. Hernandez, Bardalez and Williams were inside the residence, and according to police, Hernandez admitted to being in charge of house at the time. The three persons were cautioned and asked if they had anything illegal to declare to which they answered no. A search started in the presence of Hernandez and minutes after they found a red in colour Kapsel brand knapsack containing two stacks of $50 BZ bounded by rubber bands.
A further search led to the discovery of a grey and red in colour Adidas brand knapsack containing three tape wrapped parcels. An incision was place on all the parcels, which contained a white powdery substance suspected to be cocaine. The three individuals were immediately informed of the offense committed. The money was counted in their presence, totalling $9,600. The three parcels were weighed on a digital gram scale amounting to 3,455 grams.
Claims of Police Brutality
The detainees complained of being beaten by police while in custody in San Pedro. Attorney Bradley made an official complaint that his three clients had been abused badly by police. According to him, Williams claims he was shocked with an electric cord, while Hernandez and Bardalez were allegedly beaten by the officers.
The origins of the drug and cash confiscated in the raid was not clarified by police.
Follow The San Pedro Sun News on Twitter, become a fan on Facebook. Stay updated via RSS