BTB films budget commercial in San Pedro
Friday, September 14th, 2012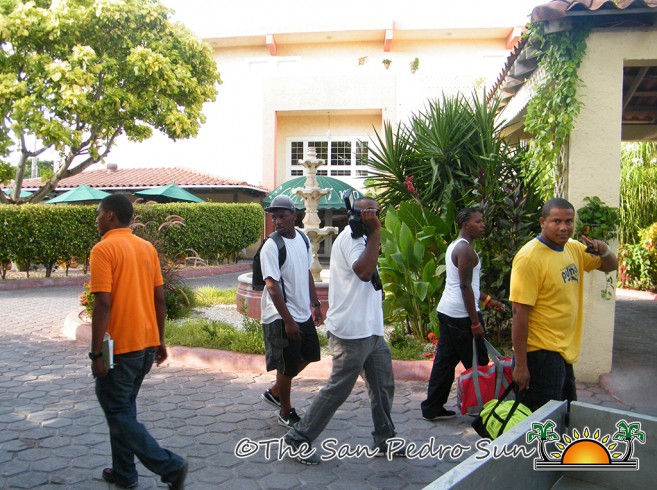 For many of our visitors, Belize is a dream destination to be enjoyed to its fullest. A lot of travelers are enticed to come to the Jewel via the (BTB) Belize Tourism Board's promotions. However, the BTB is now working on enticing Belizeans to enjoy vacationing in their own country with a series of commercials aimed at the local Belizean. Presently the team is working on a series of visuals that showcase the various vacation destinations that are available to the budget traveler right here in our own back yard.
In San Pedro, the technical team and actors arrived on Tuesday, September 4th via water taxi. They acquired golf carts and drove down our streets to their destination. The commercial aims at showcasing the type of services that can be had in San Pedro at a cost that is affordable to the average Belizean traveler.
Shola Babb, Media and PR Manager for BTB told The San Pedro Sun a little about their campaign; "We are here in San Pedro to showcase some of what San Pedro has to offer to our local Belizeans so they can choose to vacation here in Belize. While on the island we plan to capture the different amenities that are available to tourists and show that Belizeans can enjoy San Pedro just like other tourists. We know that the people in San Pedro are some of the most accommodating and hospitable in the entire country so we hope to also showcase this as well, to the rest of Belize. We want Belizeans to realize that you don't have to be a millionaire to enjoy San Pedro or any other part of the country."

The campaign hopes to showcase travel packages that start as low as BZ$150 and up. Prior to arriving on San Pedro, the team travelled to Caves Branch in the Cayo District and Caye Caulker. The team will be travelling to all the other districts in the country as well. Showcasing and enjoying our northeastern hospitality were: Marlon Lopez – Videographer; Evan Young – BTB Representative; Actors: Jonathan Vellos, Nigel Stanford and Neuton Garcia. The commercial is scheduled to air on local TV channels as early as next week.
Follow The San Pedro Sun News on Twitter, become a fan on Facebook. Stay updated via RSS