Beautiful homes brighten the 6th Annual Caribbean Christmas Colors Contest
Thursday, December 23rd, 2010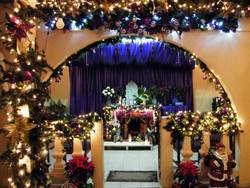 Like moths drawn to a flame, three wise judges gravitated to the beautifully lit homes around La Isla Bonita, eyeing the variety, the colors, the artistic flair of each home. They drove around with their helpful elves – er – friends, and one by one, they jotted down their notes. Each home had something special, each home shone brightly – and where there were few lights, smiles beamed forth, shining the way.
Why yes, it was a special night indeed, for it was the sixth annual Caribbean Christmas Colors Contest. On Friday night, December 17th, judges loaded up in golf carts and canvassed San Pedro Town in search of exceptionally lit holiday décor. The daunting task required the judges to pick winners in ten different categories, including Judges Choice/Best Overall, Most Creative, Best Theme, Best Business, Jan Jensen Memorial Award, Editor's Choice, Honorary Mention, Mrs. Claus' Choice, People's Choice and Santa's Choice.
After four hours of covering areas from Boca del Rio to DFC, judges Emory Boone, Wil Alamilla and Rene Guzman deliberated the contestants and determined the lucky winners. Although the public was eager to learn who the winners were, the community was forced to wait for the winners to be announced in this issue of The San Pedro Sun.
All homes were truly winners, and the joy that bright lights sparkling in the Caribbean skies bring can stir even the most dormant of holiday spirits. Winners can collect their prizes at The San Pedro Sun office located on Barrier Reef Drive above the Blu Gift Shop, after December 28th. The SPSun would like to thank all those who helped in making the annual contest a huge success and special thanks go to the generosity of the sponsors in providing wonderful gifts for the winners.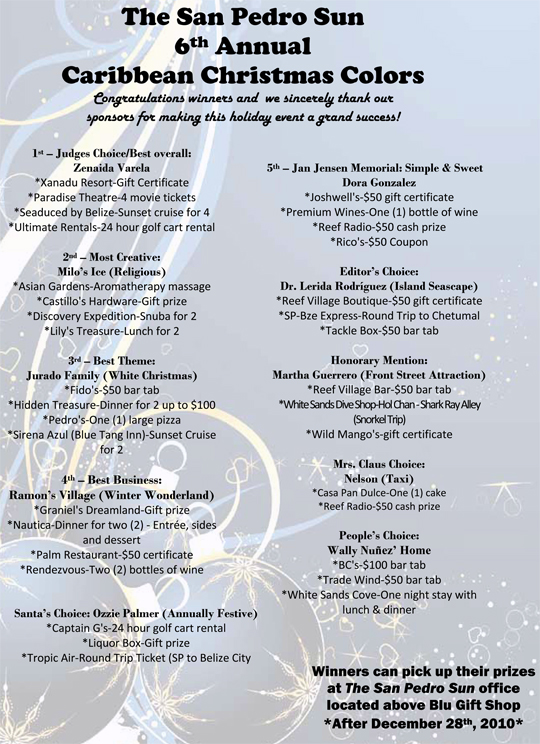 Follow The San Pedro Sun News on Twitter, become a fan on Facebook. Stay updated via RSS