San Pedro Polyclinic's roof gets re-vamped
Thursday, January 13th, 2011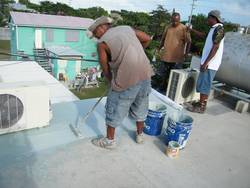 Much needed work on the San Pedro PolyClinic's roof has commenced. The San Pedro PolyClinic II is the only public clinic on the island and a crucial element of our emergency response service. Among the problems affecting the roof structure is severe leaking leading to much water damage and the possibility of formation of dangerous mold growth as a result.
The situation was assessed earlier in 2010 and a recommendation to treat the roof with a combination of a snow roof type material and fiberglass with epoxy system was made. With characteristics such as the ability to perform under intense ultra violet radiation without breakdown, and the property for stretching, shears, torsion and strain while maintaining their integrity, the recommended systems promised to provide a permanent solution to the problems with the PolyClinic's roof.
The work is being done by DELNOX Construction of Belize City. A team of four individuals; supervisor Mr. Earl Stuart, Mr. Michael Ramos, Mr. Earl Stewart and Mr. Sherwin Latchman, are here to undertake the task. According to Mr. Ramos, they are using a Hydro Stop Material of very high quality guaranteed to provide a leak free finish for up to ten years. The process starts with a power wash to clean the surface of the area being treated. This is followed by a layer of the foundation material, a layer of special cloth material, two layers of the foundation material, a barrier guard and a finishing layer, white in color. The work commenced on Monday January 10th and is scheduled to continue for three weeks. The materials being used for this project have been imported from Miami, Florida, USA as it is not available here in the country.
The clinic operates from 8am to 4pm, Monday through Friday with a doctor on call 24/7 for emergencies during the hours that the clinic is closed. With the service of four full time triage nurses; two Registered Nurses, two Practical Nurses; and two (MTH) Maternity Health nurses, service at the clinic is quickly improving. In addition to emergencies the PolyClinic offers pre and post natal services, baby clinics (including vaccinations), Specialists for eyes, bones, diabetes, dental care and many other ailments, diseases and sicknesses. Everyday care for coughs, colds, blood pressure management and so forth are available at the clinic. Services rendered by the San Pedro PolyClinic are free of charge and donations are encouraged in the form of $5bz if the patient can afford it.
Follow The San Pedro Sun News on Twitter, become a fan on Facebook. Stay updated via RSS