From Employee to Owner in 12 years: Caribe Creations exchanges hands
Monday, May 5th, 2014
The way the business world works, employees often head to work every day, not knowing if their employers are planning on selling and leaving, or if they'll stay for the long haul. At least, that's how it can seem in a rapidly evolving community like San Pedro Town. For the past 15 years, Aida Graf owned Caribe Creations. With the motto "From Cloth to Clothes in 24 Hours", Caribe Creations had to have a reliable seamstress to ensure that the items ordered would be ready and made well. That's where Maria Aide Alfaro came into play.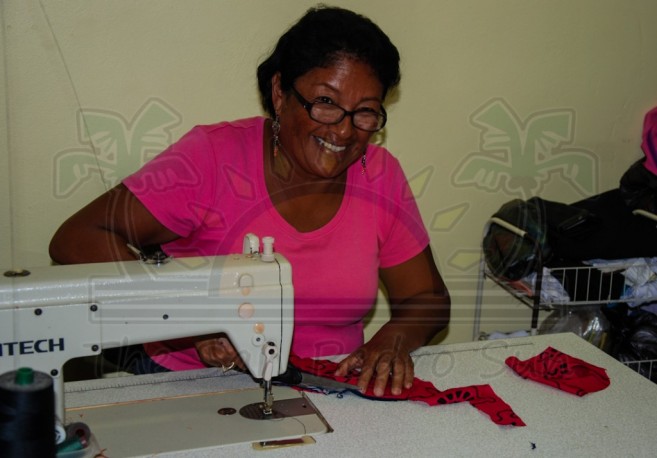 Originally from Honduras, Maria Aide, or Ms. Vic as she is affectionately known, decided at the age of 17 that higher education was not for her. She ran off to register herself at sewing school in Honduras, not knowing a stitch about the craft, but managed to become quite adept at the skill. She arrived in Belize with her three daughters, seeking a better life for herself. She somehow managed to make it to the island of Ambergris Caye in 1990 – and the rest, as they say, is history. "For the past 12 years, Ms. Vic has been the backbone and talent of the business," says Aida. She makes every stitch of clothing available to sell and on order.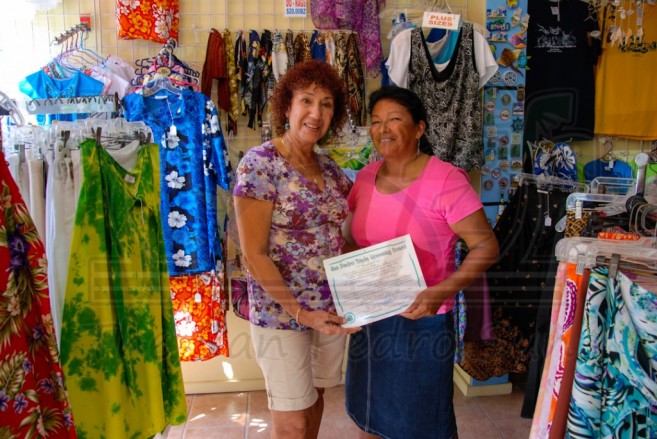 That is why, when Aida decided to retire and head back home to California, USA, she couldn't think of someone better to continue the business. Overcome with emotion, Aida recounts how Ms. Vic went from seamstress to confidante and close friend, someone who went above and beyond the call of duty. "She was the one caring for me when I fell ill, bringing me soup, checking on me all the time, and just keeping me company in this business in all our years together," said Aida. Her decision was clear. As a parting gift, Aida has handed over the business to her best friend and loyal employee, Ms. Vic. She will continue to operate the business out of its current location inside Mayan Flavas gift shop on Barrier Reef Drive, and she will continue to uphold the motto of Caribe Creations, bringing clothing to life in 24 hours. Swing by to meet the new owner, see the wonderful creations she makes and you never know, you could be the proud owner of a new item of clothing in 24 hours!
Congratulations Ms. Vic, and thank you Aida, for recognizing the value of a loyal employee.
Follow The San Pedro Sun News on Twitter, become a fan on Facebook. Stay updated via RSS