Subdivision moves to high ground
Monday, December 1st, 2014
A proposed subdivision in a swamp wetland area that caused uproar amongst local residents in September has been relocated to higher grounds. The San Pedro Sun first broke the story on September 17th, in which it outlined that over 400 house lots were being subdivided as part of a wider subdivision project spearheaded by the Honorable Manuel Heredia. The San Pedro Sun can confirm that the subdivision has been diverted to higher grounds, some 6.5 miles north of San Pedro Town.
According to Heredia, the new subdivision will now be done in an area behind the Blue Reef Resort on land belonging to the Government of Belize through The Belize Trade and Investment Development Service (BELTRAIDE).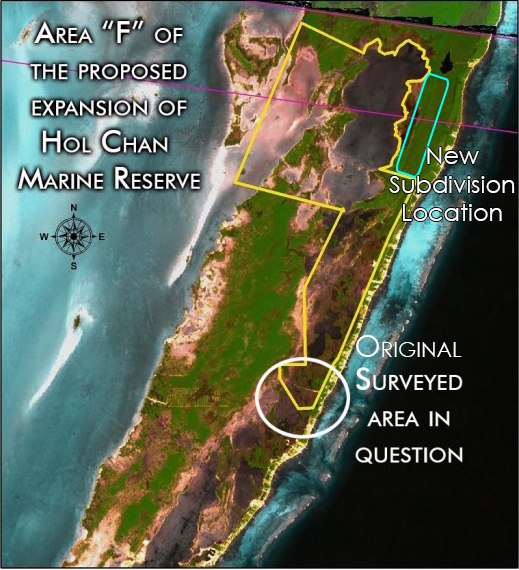 The first phase will see 100 acres of land subdivided into regular size house lots totally over 400 parcels. "The area is high ground, perfect for residential use," commented Heredia. He explained that it is a part of a wider subdivision that will eventually see 400 acres of land distributed to first-time land owners on Ambergris Caye.
The entire project will allocate a reserve area for parks and playgrounds, sporting facility including space to accommodate a FIFA standard football pitch. It will also leave reserve land for future expansion of school, police, fire and medical facilities to accommodate the area when it grows. Within the scope of the larger subdivision, 69 industrial size lots will be made available within a commercial zone since the new subdivision will be a properly planned one.
The subdivision was originally planned on a portion of wetland that was proposed as part of the expansion of Hol Chan Marine Reserve. Over 350 submerged lots were already subdivided and were about to be distributed, but after heavy criticism and outrage by conservationists and local residents, the project was halted. After the matter caught national attention, Cabinet asked that another portion of land be identified. Cabinet later approved the use of a portion of the BELTRAIDE land for the new subdivision.
According to Heredia, all those who had originally paid for the subdivision that was halted, will be the first to receive lease land certificates for the new subdivision. Currently the first 100 acres of land is being surveyed and subdivided, and once that process is completed, the house lots will be distributed to the applicants.
Follow The San Pedro Sun News on Twitter, become a fan on Facebook. Stay updated via RSS