Good Samaritan survives gun shot wound and plane crash within hours
Friday, December 5th, 2014
An armed robbery that occurred on Pescador Drive on Thursday, December 4th at approximately 1:15PM left 24-year-old Good Samaritan Carlos Najera injured with a single gunshot wound to the left leg. According to San Pedro Police, a distress call was received of robbery in progress at A-Z Store, and Najera was shot while attempting to stop the robber from escaping.
Police officers were quickly deployed to the scene, but when they arrived, the culprits had escaped. Police questioned two store employees who stated that the robbery was conducted by three men: one of Hispanic descent and two of Creole descent. According to the information received, the men went into the store, one armed with a handgun, and began taking a number of assorted items, including slippers, clothing, android tablets, and other items. While the robbers were escaping, Najera confronted them, attempting to slow them down in order for the police to arrive and arrest them. At this time, the armed robber fired a single shot at Najera, injuring him on the left leg. Doctor Giovanni Solarzano arrived at the scene and performed first aid medical care on Najera, who was bleeding profusely.

Najera was then immediately taken to the Dr. Otto Rodriguez San Pedro Polyclinic II, where he received primary care before being transported to the Karl Huesner Memorial Hospital (KHMH) in Belize City. At 2:20PM, Najera was transported to the city via Tropic Air flight #281. Upon arriving to the municipal airstrip, the flight experienced engine problems and was unable to decelerate. Several attempts were made by the pilot to shut down the engine. However, the momentum caused the plane to overrun the airstrip and landed it in the sea.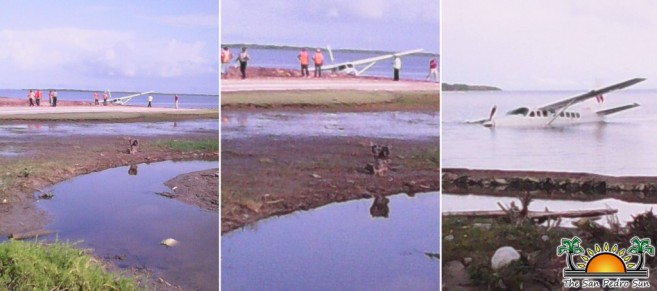 Immediately after the incident Tropic Air released a statement stating that all passengers onboard, including Najera were unharmed "On Thursday December 4th, at approximately 2:20PM, Tropic Air flight #281 was going from San Pedro to Belize City Municipal and upon landing went off the runway and into the water. There were 5 passengers, including the victim from the armed robbery earlier in the day, plus the pilot. No further injuries were incurred." However Belize City Police have stated that two of the passengers did sustain minor injuries during the incident. The aircraft received major damage. Investigations are being conducted by the Department of Civil Aviation and the airstrip was temporarily closed.
Najera was transported to KHMH where he received proper medical care and is expect to make a full recovery. Police are continuing investigations and are currently looking for three suspects. Anyone with information that can lead to an arrest can contact the San Pedro Police at 206-2022.

The San Pedro Sun joins in with the San Pedro community in thanking Najera for his courageous act, and we wish him a speedy recovery.
Follow The San Pedro Sun News on Twitter, become a fan on Facebook. Stay updated via RSS