Police seek public's assistance in recapturing fugitive Juan Carlos Martinez
Monday, December 14th, 2015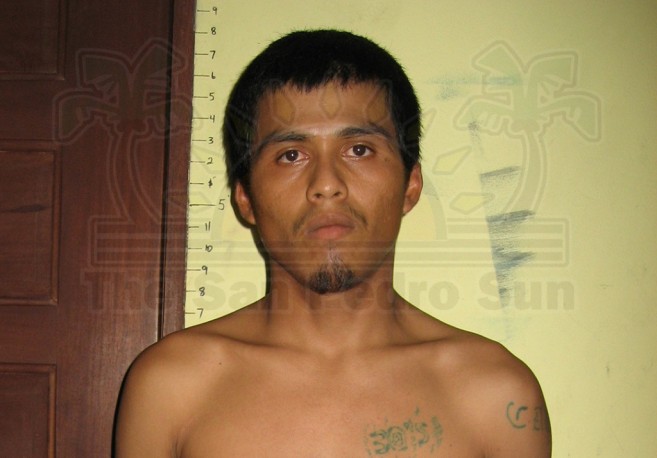 The San Pedro Police Formation is seeking the assistance of all island residents in the recapture of 24-year-old Juan Carlos Martinez who on Sunday, December 13th at around 3PM, escaped from the police station while an identification parade was taking place. Martinez, along with another prisoner, Florencio Velasquez, had been serving time at the Belize Central Prison for aggravated burglary and brought in to San Pedro's Magistrate Court for sentencing. But before being sentenced, Martinez made his way to escape and remains at large. He is considered armed and dangerous and the general public is advised to be extremely cautious if approaching.
According to San Pedro Police, Martinez had been convicted and given ten years at the Central Prison for firearm offenses earlier this year. If sentenced in San Pedro on Sunday, he would have received another 10 years or more. The police statement says that while the identification parade was in process; Martinez saw the chance to escape and jumped from the second floor balcony inside the station. He quickly made his way out and his whereabouts are still unknown. Even though police believe Martinez is still somewhere on the island, he is yet to be found.
Deputy Officer in Charge, Henry Jemmott indicated that the San Pedro Police increased patrols in all corners of San Pedro and have been in touch with Martinez' acquaintances. "We have posted police officers at all the boat areas, especially the water taxi docks. We are also conducting river patrols and have alerted the Coast Guard to be on the alert and check the routes leading to Corozal and Chetumal, Mexico. So, all necessary measures have been set in place and is just a matter of time before we get some results on our investigations," stated Jemmott. He is positive that once more people are aware of this fugitive; the quicker he will be apprehended.
Martinez was first apprehended in March of 2014 along with a minor through the efforts of the North Ambergris Caye Neighborhood Watch in the Tres Cocos area of San Pedro Town. The group, working along with others in the area managed to detain Martinez along with a minor. At the time, it was believed that Martinez had been terrorizing residents in the Tres Cocos area of the island.
The San Pedro Police is asking everyone to spread the word, and anyone with information that could lead to the arrest of Martinez to call 206-2022. All information will be kept confidential.
Follow The San Pedro Sun News on Twitter, become a fan on Facebook. Stay updated via RSS