Suspected explosive device found on domestic flight from San Pedro to Belize City
Friday, September 29th, 2023
The Belize Defence Force (BDF) sent personnel to the Sir Barry Bowen Municipal Airport in Belize City after they were alerted about an item resembling an explosive object sent as cargo on a local flight from San Pedro Town.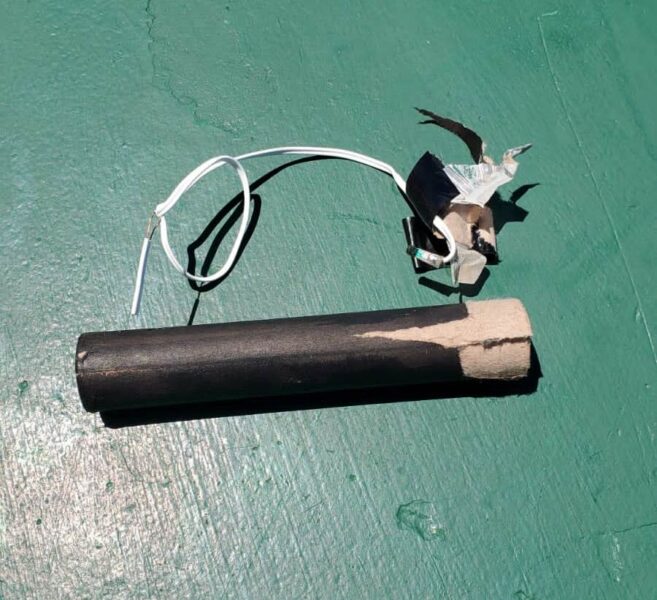 According to reports from the BDF, they were alerted on Tuesday, September 26th. The cargo containing the device was unloaded at the Municipal Airport, and the flight continued to the Philip S.W. Goldson International Airport. The airline crew at the Municipal Airport contacted the BDF, and after inspection by the personnel of the BDF's Explosive Ordnance Disposal Unit, it was determined to be an improvised explosive device. They said that if the device had been set off on board the flight, it could have been fatal for the crew and passengers. Fortunately, the device was removed from the aircraft upon landing in the city.
The initiator was removed from the device's body and later identified as a binary dynamite with a highly explosive filling. This conclusion came from Retired General David Jones, who is knowledgeable in explosives.
However, the airline in which the object was sent maintains that the device is not an explosive. The airline reportedly stated that it was a rocket motor and would consult with an international explosives expert to verify that it was not an improvised explosive device. The results from these private inspections are to be released when they occur.
No official report has been shared from the police or if anyone is being investigated for mailing such an object aboard a domestic flight.
Follow The San Pedro Sun News on Twitter, become a fan on Facebook. Stay updated via RSS