Bomb experts confirm grenade explosion in San Mateo Area
Monday, September 18th, 2017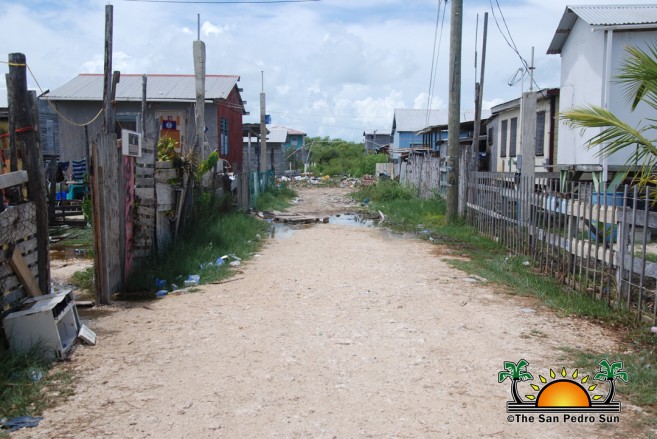 The residence of 39-year-old Amancia Martinez in the San Mateo Sub-division north of San Pedro Town was shaken by the detonation of a grenade on Saturday, September 16th. The explosion did not injure anyone, but left a large hole in the ground beneath the steps of the residence and splattered mud in the immediate vicinity. The initial investigation has led to the detention of three persons (two adults and one minor) for questioning, while bomb experts from the Belize Defence Force (BDF) have been assisting the police as the investigation continues.
The official report states that around 8:20PM, Martinez was inside her home when the explosion took place. The initial investigation also revealed that two persons allegedly threw the grenade into her yard and were seen fleeing from the area. The blast of the detonation was heard almost a mile away.
BDF Commandant and expert on bombs, Brigadier General David Jones, visited the area to inspect the blast. Jones confirmed it was a grenade based on the damages cause by the device. "It was a U.S type grenade, with a steel body that is designed to fragment on detonation," said Jones. He explained the radius of lethality. "This type of grenade can kill anyone standing within five metres of the explosion, and can cause severe injuries at 15 metres," explained Jones. "The most lethal part of this explosive device is the fragments that can be propelled up to 200 metres after an explosion." Jones also stated that this is the first he has known of such a grenade detonated on Ambergris Caye.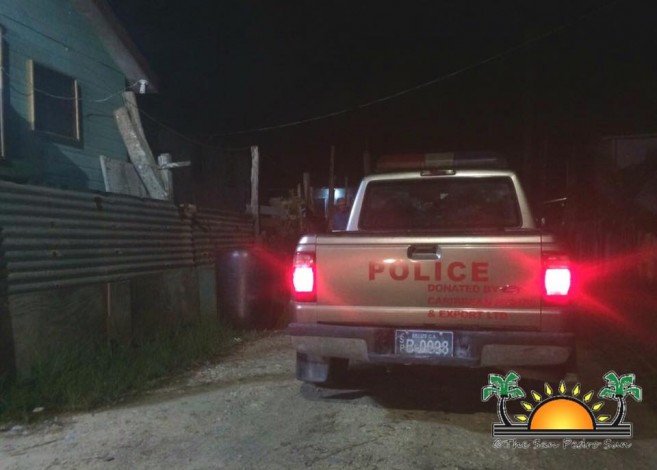 Police have yet to set a motive for this attempt, and have indicated that they have increased patrols in the area. However, Martinez believes that it is a direct attack against her family, particularly her son, Delson Paguada. "I don't understand what is the problem, why people want to do us harm when my son don't look for trouble. He goes to work and then comes home," she said. Martinez stated that when the grenade went off, she was sleeping with her new-born granddaughter. She threw herself on the ground for cover and then called for assistance.
As the investigation continues into this latest incident, it is believed that the attack may be linked to the previous attacks on her family. In 2016, Martinez' husband, Antonio Paguada was murdered at the entrance of San Mateo, when he was heading home. No one has been arrested so far for his murder.
In March of this year, Delson Paguada was shot while walking towards his home. According to a police report, Delson saw two male persons in a yard opposite to him with what appeared to be a 9mm pistol. He received a single gunshot wound to his right armpit. He was rushed to the Dr. Otto Rodriguez San Pedro Polyclinic II and later airlifted to Belize City for further medical treatments.
Just three months later, on May 27th, Martinez became a victim when she was injured with gunshot wounds to her right upper arm and right side of her abdomen. She had just arrived home, when a stream of bullets targeted her house. Martinez told police that she threw herself on to the floor for cover after realizing that her house was being shot at. She then began feeling a burning sensation and realized she had received the injuries. She was quickly transported for medical attention.
In the recent weeks, four explosive devices have been found in Belize. Two of these were found in Belize City, and one in Corozal Town. The fourth and the only one that has been detonated was on Ambergris Caye. Authorities suspect that these grenades may have been smuggled in to the country from the nearby countries in Central America or Mexico.
As investigation continues, police continue to seek the assistance from the general public. Anyone with information can contact the San Pedro Police Station at 206-2022. Confidentiality is guaranteed.
Follow The San Pedro Sun News on Twitter, become a fan on Facebook. Stay updated via RSS