PSI/PASMO Celebrating Life at closing of regional project
Thursday, December 2nd, 2010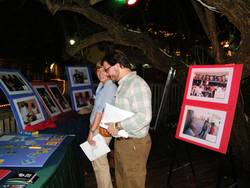 The Population Services International (PSI) and the Pan American Social Marketing Organization (PASMO) HIV/AIDS Prevention Program in Central America came to a close on Tuesday November 30th, during a special ceremony at the Radisson Fort George Hotel and Marina in Belize City. The five year program was implemented by PSI and PASMO with funds from the United States Agency International Development (USAID). The program was launched in 2006 after a 2005 regional investigation showed that the HIV/AIDS epidemic in Central America continued to be concentrated in high-risk groups. The investigation indicated then, that the number of new cases each year continued to grow and an important, comprehensive and innovative prevention work was needed.
During the five years of implementation, PSI and PASMO led the charge with its regional and detailed prevention program aimed to address the many regional challenges in the fight, treatment, education and campaign against HIV/AIDS. The regional preventative program allowed for a broad sharing of experiences, common strategic approaches to intervention, economies of scale in developing methodologies and campaigns and even in implementing and carrying out research. To address the Belizean challenges, the regional methodologies were adapted locally which helped in the work of the organization with a variety of local and regional partners.
The program's primary focus was to address the behaviors that put individuals at risk for HIV and other sexually transmitted infections (STI). Specifically, it targeted sex workers and men who have sex with men (MSM) but it also looked at many other risk populations, such as potential clients of sex workers. In addition, the regional program also worked along with health personnel, particularly in improving the extension for voluntary counseling and testing (VCT) services such as the Ministry of Health and other NGOs.
An important milestone as a direct result of the program is that the program reached out to faith-based organizations that have tremendous influence on the population. They established a common language and objectives in the struggle to prevent the further spread of HIV/AIDS. Although many of the targeted populations were hidden or difficult to reach, many times due to stigma and discrimination imposed by society, PSI, PASMO, different NGOs and its local partners were able to conduct more than 150,000 activities that aimed to increase knowledge and promote healthy behaviors. Additionally, innovative mass media campaigns were designed, produced and aired, educating and reaching millions more throughout the region including Belize.
But what is there to report about Belize? Former PASMO Country Manager, Carlos Toriello said at the event that PASMO Belize also joined the regional efforts to work with the two main target groups. Referring fist to the female sex workers, interestingly Toriello reported that figures are improving since five years.
• More than 80% of sex workers reported using condom during their last sexual encounter.
• Almost 70% are reporting having taken HIV/AIDS test within any given 12 month period.
• Around 85% know where to access and get an HIV/AIDS test. Looking at the results of the program, it indicates that men who have sex with men are more sexually responsible.
• 80% of MSM report condom use during sex with any type of partner.• Around 90% who use condom also reported using it with water base lubricant
• More than 75% of MSM report having taken a HIV/AIDS test in a 12 month period
• More than 85% know where to access and get and HIV/AIDS test. The theme for the closure of the event was "Celebrating Life."
Guest speakers at the event spoke highly of the programs developed and they indicated that the material can assist those in the Ministry of Health, statuary bodies and other NGOs in the work to combat HIV/AIDS.Invited guests and speakers included The Chairperson for the National HIV/AIDS Commission (NAC) – Kathy Esquivel, Executive Director of the NAC – Dr. Martin Cuellar, United Nation Develop Program (UNDP) Manager – Dr. Mariana Mansur, PASMO Country Representative – Lara Smith and USAID Regional Chief of Party – Sussy Lunga. The work undertaken by PSI and PASMO through the preventative program is emesis and the reports are comprehensive and in the weeks ahead we will be looking in details at the PSI/PASMO five year preventative program regionally and nationally.
Follow The San Pedro Sun News on Twitter, become a fan on Facebook. Stay updated via RSS