CARPHA introduces Caribbean Tourism & Health Program to Ambergris Caye
Friday, April 27th, 2018
Aiming to raise awareness on a newly implemented Tourism and Health Information System (THIS) the Caribbean Public Health Agency (CARPHA) held a training session at the NEMO office in San Pedro Town on Wednesday, April 25th. The presentation was facilitated by Head of Tourism and Health Programme and Foodborne Diseases of CARPHA Doctor Lisa Inder, with members of the islands hospitality industry in attendance.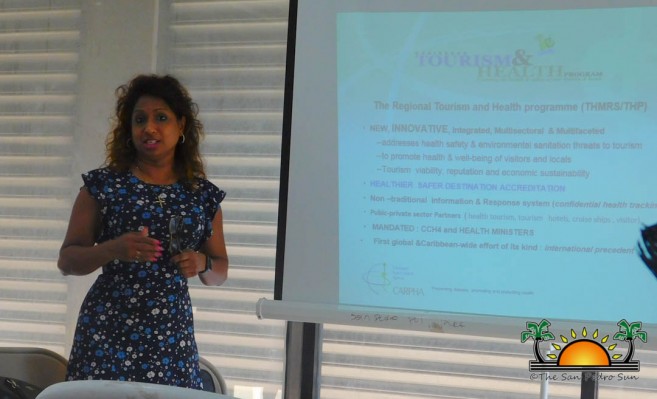 The session began shortly after 4:30PM, with Dr. Inder thanking everyone for their attendance, followed by a brief explanation of the program. THIS is a real-time web-based health information management system for hotels and other facilities to monitor the health of their visitors and staff. The program monitors provide alerts on the health of guests and staff members. In a partnership between the Caribbean Public Health Agency (CARPHA), the Ministries of Health and Tourism, the Belize Tourism Board Members, and the hospitality industry, the program is part of the larger National Tourism and Health Program (THP). "With this system, we can help control the spread of illness by knowing when and where it is occurring as soon as possible," said Dr. Inder. "This is the reason the CARPHA designed this system in order to allow hotels, guesthouses, and visitors to report their illness as they begin to feel sick. Early reporting will promote faster response and reduce the escalation and spread of illness."
According to Dr. Inder, with the Caribbean being one of the most touristic destination globally it is important to provide adequate and safe health service for guests in order to keep a thriving and healthy tourism product. "When people are searching for locations to vacation, they are not only looking for the luxurious location but places that are safe from crime and have good health care," she said.
According to Dr. Inder, some of the key benefits of the THIS we app include: Fewer, less costly outbreaks/ adverse health events in tourism; Safer, healthier, better quality tourism product and destination; Increase in the reputation, comparative advantage, hence marketability of Caribbean tourism; Enhanced capacity in food safety, health & environment sanitation; and Industry-wide, real-time tourism early warning and response surveillance system to avoid /reduce illness spread and negative publicity.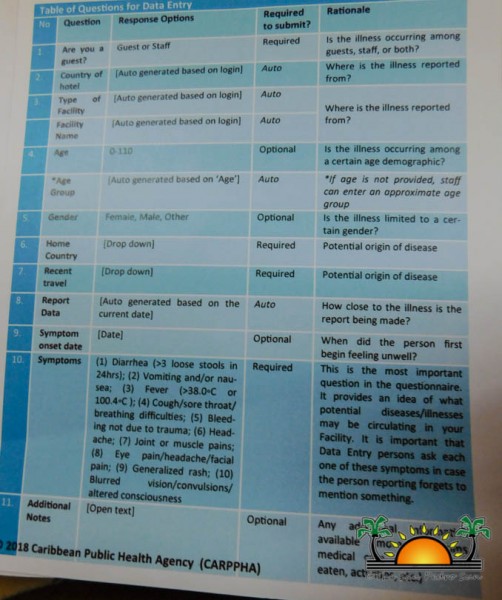 According to CARPHA, the implementation of this program is needed as the health of Caribbean economies is closely related to the health of its tourism industry since the Caribbean is tourism-dependent. "Enhancing sustainable tourism would promote economic development, poverty eradication and improvement of the quality of life. Tourism growth & sustainability in the Caribbean are facing Health, Safety, and Environmental Sanitation (HSE) threats, including disease outbreaks/crises, resulting in declined tourism arrivals. High and increasing visitor arrivals increases the potential for visitors and locals transmitting or acquiring diseases from each other, typified by H1N1 in 2009, Chikungunya in 2013 and Zika in 2015," said Dr. Indra. She further stated that a reduction in tourist numbers can contribute to adverse economic and social burden on Caribbean economies
Once someone has registered to the THIS web app and has an account, they will be able to report cases of illness. The data entry is a straightforward process, as submission of the report should only take around two minutes. The table of questions outline 11 questions such as home country, age group, gender, recent travel information among other basic info. "It is very important for the data entry person for that particular hotel/guest house to take time to ask each symptom for more accurate identification of an illness. With the information collected it will help us understand what illness they are likely to have, how and where illnesses are circulating. It will also allow us to know how to better support hotels/guest houses to minimize the spread of illnesses and reduce the risk to others," said Dr. Indra.
CARPHA serves 24 member Caribbean countries and territories and is mandated by Heads of Government to prevent disease, Promote Health, Respond to Public Health Emergencies. At the end of the training, application forms were issued as to any of the businesses that wished to sign up for the program. To learn more about this program and how your business can be a part of visit www.THis.carpha.org or email [email protected]
Follow The San Pedro Sun News on Twitter, become a fan on Facebook. Stay updated via RSS