ACES introduces new intern
Monday, November 5th, 2012
My name is Joshua Pierce and I am the newest addition to the ACES/American Crocodile Education Sanctuary team. Prior to my involvement with ACES, I had spent my life working with and around wildlife. This includes some critters that most people seem to shy away from; large mammalian carnivores and venomous snakes to name a few. Working with ACES has helped to fulfill a lifelong dream – conserving crocodilians in a very direct and effective manner.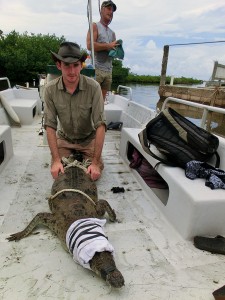 Experiences thus far have enabled me to learn effective trapping techniques which serve to benefit conservation of these animals by not simply killing, but rather relocating them. At the same time, effective wrangling and handling methods have been taught to me focusing on safety for both myself and the animal; something that is paramount for the success of what we do. Outside of the hands on trapping, wrangling, and adrenaline pumping excitement I have learned something truly equally as exciting: how to successfully operate an NGO (non-government-organization) with a conservation goal.
Another one of my responsibilities as an ACES volunteer will be implementing our "Safe with Snappy" education program for school aged children. It is important to learn how to safely coexist with apex predators, such as crocodiles, and to raise public awareness about Belize's wildlife laws and why wild animals do not make good pets.
The culmination of all of these things that Vince and Cherie Rose have taught me will surely have an exciting and profound impact on the rest of my life as a crocodilian biologist and conservationist.
Follow The San Pedro Sun News on Twitter, become a fan on Facebook. Stay updated via RSS