Italian Antonio Velardo and Swedish Levente Arangos denied stay in Belize
Monday, April 29th, 2013
Two people did not get to enjoy their stay on Ambergris Caye and Belize after they were kicked out of the country by authorities over the weekend. Italian 35-year-old Antonio Velardo and Swedish boat captain 47-year-old Levente Arangos were escorted out of Belize via their vessel "La Aventura." They were escorted by San Pedro Police on the afternoon of Sunday April 28th after the Belize Immigration Department executed a notice forbidding the captain and the lone passenger landing.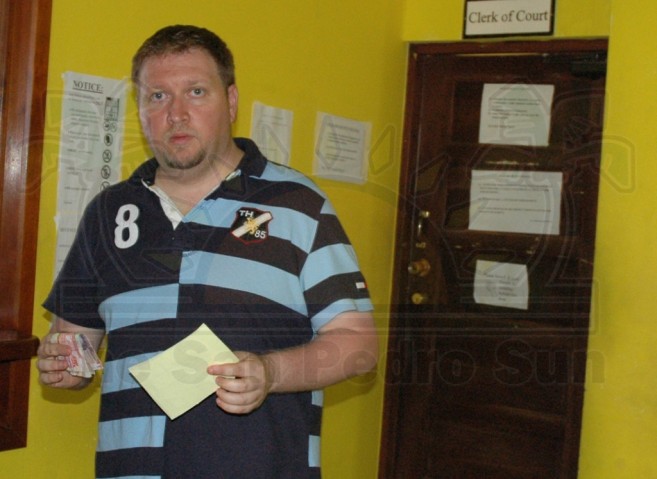 The two arrived in Belize and docked at local marina in San Pedro Town on April 24th. After being in the country for 24 hours, the two had refused to declare funds and were later picked up by authorities on the island during a joint operation. During the operation, authorities found a total of US$22,000 inside La Aventura and as a result proceeded to detain the two foreigners.
On Thursday April 25th, both the Central Bank and Financial Intelligence Unit were called in as part of the investigation where Arangos told authorities that $3, 000 Bze was his, while Velardo took responsibility for the remaining amount of $41,000 Bze. Authorities later charged Velardo for a single count of failure to make a declaration (failure to declare money) to which he pleaded guilty before Magistrate Sherigne Rodriguez at the San Pedro Magistrate Court. He was fined $5,000, which he was able to meet, and was set a free man.
Velardo was later re-apprehended, on the strength of an Interpol warrant where he was questioned for suspicion of a money laundering scheme but was later cleared to leave. At that point Immigration official also served his captain with a 'refused leave to land notice (RLL).' According to the Immigration officials, RLL is an order given to undesirable person at any point of entry for one of two reasons; 1) for not meeting the right immigration requirement or 2) for doing something contrary to the law of Belize.
According Senior Immigration Officer Mario Arzu, the captain was served with the RLL since he violated the law of Belize. "He not only failed to declared funds and pleaded guilty, but he was convicted by paying a fine. It is the right the country reserves, thus we served them with the RLL," said Arzu. As such the captain was forced to leave the country along with his passenger, in this instance, the owner of the vessel, Valardo.
The procedure is an administrative one and was executed by immigration officers in San Pedro Town on Sunday afternoon. The two were escorted outside Belizean waters off Ambergris Caye by San Pedro Police, who ensured that the order was complied with and properly executed.
A publication on The Daily Telegraph indicates that Velardo is a profitable and key player in international real estate along with his partner Harry Fitzsimmons in their company, VFI. The company is reported to have developed a turnover of 100 million Euros in less than eight months. Internet information also indicated that Fitzsimmons is wanted in Ireland for a money laundering scheme called the Calabrian Scam. Online media indicates that Fitzsimons was a "middle-man."
Valardo is said to have been in Belize to look at real estate opportunities.
Follow The San Pedro Sun News on Twitter, become a fan on Facebook. Stay updated via RSS