St John's Anglican girls and St. Martin's boys win Belize City basketball finals
Friday, February 19th, 2016
The girls of Holy Cross Anglican School and boys of San Pedro RC School represented la Isla Bonita at the Belize City district primary schools basketball finals, organized by the National Sports Council, at Birds' Isle on Wednesday, February 17.
The San Pedro RC boys went up against the Belize City champs, the St. Martin De Porres RC School boys in the opening game of the tournament Wednesday morning, and Ian Pou led the San Pedranos' attack, scoring 6pts; while Robert Stuart and Tionne Paguada each scored a basket in the first half. But they trailed the city boys 10-13 at the break as Elijah Gabourel had led the Martin's boys' attacks with 7pts, and Tyrek Solis, Kareif Smith and Lyndon Gentle had each scored a basket.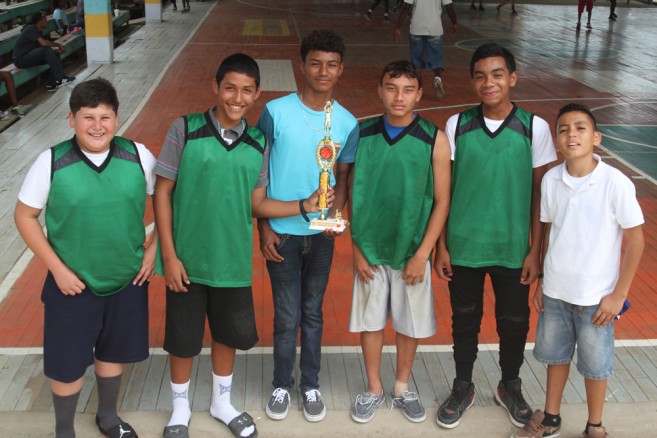 The island boys pulled out all the stops and tightened up on defense to out-score the city boys 15-10 in the 2nd half; as Ian Pou poured in 8pts more to finish with a game high of 14pts. Tionne Paguada tossed in another 6pts, he finished with 8pts; while Robert Stuart added a free throw.
But the Martin's boys edged them out by one free throw: 26-25, as Elijah scored only one basket in the 2nd half. Evan Welch got hot in the 2nd half scoring 7pts while Lyndon Gentle added 3pts more to finish with 5pts.
The undefeated Belize City female champs, the St. John's Anglican girls, blew away the San Pedro girls: 16-3 in the 2nd game of the morning. Jeina Galvez scored a free throw for La Isla in the 1st half, and Faviola Ordonez scored a basket in the 2nd half.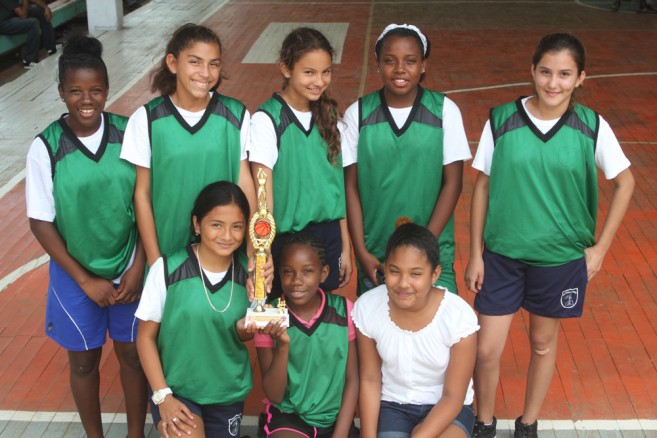 Kelis Turton and Taliyah Hyde each scored 6pts for St. John's Anglican while Marcelina Williams added 4pts.
It was an all-city finals in male and female; as the St. Martin de Porres girls eliminated the Belize rural champions, the Burrell Boom Methodist Schol girls 17-1 in the 3rd game of the day.
The Belize Elementary School boys eliminated the Hattieville Government School boys 17-8 in the 4th game.
The St. Martin's girls won the pride of representing the Belize district as the primary schools nationals in Orange Walk next Friday and Saturday, February 26-27; as they handed the St. John's Anglican girls their first loss: 12-13 to win the district championship.
The St. Martin's boys won the district championship 39-23 over the BES boys; and so they too will be going to the nationals in Orange Walk.
Follow The San Pedro Sun News on Twitter, become a fan on Facebook. Stay updated via RSS