Belize Tourism Board launches Action Plan 2010 – 2012
Thursday, October 28th, 2010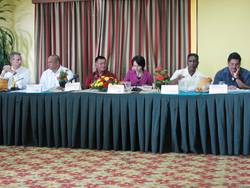 Throughout the years, the Belize's tourism industry has played a key role in the growth of Belize's economy and contributed drastically to the quality of lives for many Belizeans. As Belize grows and the world becomes more aware of its unique wonders, undiscovered landscapes and vast cultural experiences, the Belize Tourism Board (BTB), along with the private sector and key stakeholders are responding with a genuine commitment to providing world-class service and accommodations for any budget.
According to reports coming out of the BTB, the tourism sector alone represents at least 20% of Gross Domestic Product (GDP), and 1 in every 7 jobs is either related to or driven by tourism. From January to August 2010 the hotel sector reported a nearly 4 percent increase in overnight stays in comparison with 2009. The cruise sector reported a nearly 17 percent increase in the total number of onboard passengers from January to August 2010, as compared to the number of onboard passengers the same time last year. The BTB's Sustainable Tourism Program has generated several project contracts valued at approximately $1,386,000BZ, of which two major contracts were awarded to Belizean firms, while the remaining contracts are being supported by local expertise. With respect to foreign exchange earnings, tourism accounts for 7 out of every 10 dollars generated by services alone, and overall roughly 1 out of every 3 dollars generated by merchandise exports and services combined.
On Thursday October 21st, BTB launched what it calls its "Game Changing Action Plan" for the years 2010-2012. It promises a complete overhaul of how the BTB works internally and how it reaches potential visitors. Invited to the launch were key stakeholders who had been consulted as well as members of the various media houses.
According to Director of Tourism, Seleni Matus, BTB contracted an outside group of consultants to advise on the 2010-2012 Action Plan, which undertook an intensive consultation process in June and July of 2010 to develop a plan that would be responsive to the BTB and a wide array of stakeholders. More than 50 tourism sector leaders and organizations participated in the action plan development process. Consultants specializing in Internal Management Systems, Quality Assurance, Marketing, and Destination Planning worked closely with the BTB staff to design the recommendations and fully vetted the plan with the BTB Board of Directors and via a national stakeholder meeting. The Action Plan carefully reviews how the BTB can deepen its collaboration with leading trade associations, including the Belize Tourism Industry Association (BTIA), the Belize Hotel Association (BHA), the Belize National Tour Operator Association (BNTOA), tour guide associations throughout the country, as well as public sector agencies, such as the National Institute of Culture and History, the Protected Areas Conservation Trust and the Belize Trade and Investment Development Service.
While the Action Plan calls for bold change, it relies on the strengths of the BTB – using its existing management capacity, well-trained team members and its ability to build upon pre-existing partnerships with the private sector and its trade associations. It lays out a clear set of Priorities, Proposed Outcomes and Actions that are a complete manual for staff to implement the required changes.
Among the priorities identified by the plan were to: Create Trade and Offline Department to foster and develop Trade Marketing; Create Direct and Online Department to implement New Media Marketing; Consolidate Media and Public Relations into new Media Department and to Create a Sustainability Department to liaise between Marketing departments and with the Destination Management and Product teams.
Undertaking the task of implementation and sustaining the Plan, is a leadership team; the Executive Management Team. The team is comprised of Mr. Lloyd Enriquez, director of destination planning; Laura Esquivel, director of quality assurance; Mrs. Shakira Syme, leading up revenue collection team and registrar of hotels and Mr. Orlandp Azueta, leading the finance and administration team. Leading this team is, Marketing Director, Ms. Yanick Dalhouse who boasts extensive work experiences in marketing public relations and broadcast journalism.
Follow The San Pedro Sun News on Twitter, become a fan on Facebook. Stay updated via RSS