Vehicular accident leaves one person in a state of Coma
Tuesday, January 17th, 2012
An early night traffic accident has left one individual in a state of coma. The San Pedro Sun has confirmed that the accident occurred around 7:30PM on January 16, 2012 in the vicinity of the Victoria House. According to the doctor on call at the Dr. Otto Rodriguez PolyClinic II, at around a 7:45PM, the motionless body of a Hispanic male was rushed to the PolyClinic.
According to Dr. Nicholson, the patient was brought to the PolyClinic by bystanders. Upon arrival, the patient was in an unconscious, unresponsive state and appeared to be intoxicated. He was suffering from head injuries caused by his fall.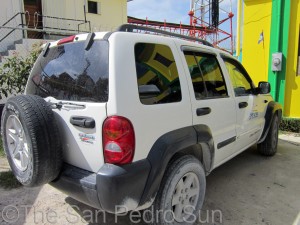 Investigations reveal that the victim, 48-year-old Honduran national Jose Roberto Lazo, was riding his bike at the south end of the island, heading north, when he was knocked down by a white Jeep Liberty driven by Maribel Marin. Marin, a resident of Mosquito Coast reported to police that on Monday, January 16th, at around 7:30PM, she was driving along Seagrape Drive heading south just beyond the entrance to Escalante Subdivision, when a male person riding in the opposite direction [northbound], collided into the front part of her vehicle. It was observed that he had been having mechanical difficulty with the bicycle he was traveling on.
Passing motorists assisted the man, who was bleeding profusely from the back of the head, and drove him to the PolyClinic II. Lazo was airlifted by Tropic Air where he remains in a coma in the intensive care unit at the Karl Heusner Memorial Hospital.
Marin was taken to the San Pedro Police Station where her statement was recorded and her vehicle examined, then impounded awaiting an inspection by the motor vehicle inspector. Police have served Marin with a Notice of Intended Prosecution pending investigations – with an outline of charges including "driving without due care and attention" and "without reasonable consideration for other road users". Based on the gravity of the injuries to the victim, SP Police may decide to add on more charges.
Follow The San Pedro Sun News on Twitter, become a fan on Facebook. Stay updated via RSS