Belize Coast Guard finds missing kayaker at Blackadore Caye; may face charges for movement outside of curfew on a Sunday
Monday, April 13th, 2020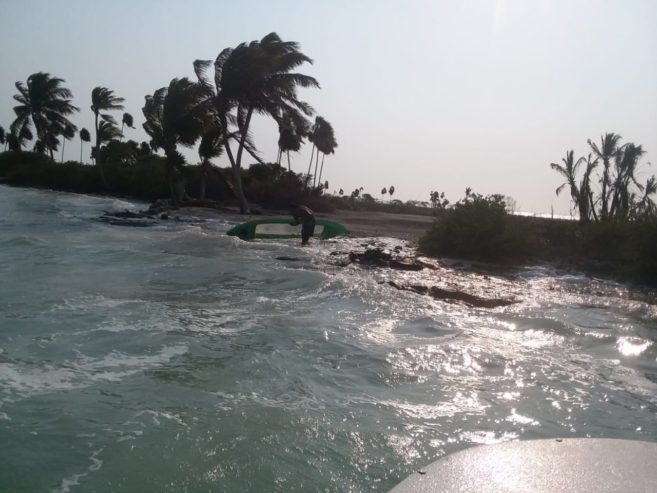 On Monday, April 13th, the Belize Coast Guard (BCG) located a man near Blackadore Caye after he was reported missing. The individual, originally from Belize City, had been missing since Sunday, April 12th, after heading out to sea in a green kayak from the Secret Beach area off the west coast of Ambergris Caye. He was handed over to the San Pedro Police, who will determine if any charges will be levied for being out at sea, which breaches the national quarantine.
One of the regulations of the national quarantine under the new Statutory Instrument No. 54 to mitigate the COVID-19 threat orders everyone to stay at home on Sundays, except for essential workers. Anyone outside their homes must have a valid reason or face arrest and charges.
Details of the incident                  
According to the BCG's Patrol Commander, they received a report from residents at Secret Beach about a person who went out on a green kayak around 10AM on Sunday. They lost track of him and made the report the day when he did not return. The BCG first searched the Cayo Rosario area, then headed to Blackadore Caye, some five miles away from Secret Beach, where they found the missing individual around 3:30PM.
According to the patrol commander, the individual claimed the kayak, which he reportedly took from the beach, began taking in water, and due to the strong winds drifted to Blackadore Caye. There he spent the night and was found in good health, wearing only his underwear and had survived the night on coconuts. The police are currently investigating the incident, and no charges have been filed as yet.
Follow The San Pedro Sun News on Twitter, become a fan on Facebook. Stay updated via RSS