Belize's Queen of Brukdown 'Leela' Vernon passes away
Wednesday, February 22nd, 2017
Belize's Ambassador for Creole Culture and Brukdown Queen, Lila 'Leela' Vernon passed away on Sunday, February 19th at the Karl Heusner Memorial Hospital in Belize City. The cultural icon had been hospitalized at the Intense Care Unit since February 10th, where she was receiving treatment for chronic renal failure. Vernon was 66 years old. Her passing away leaves behind a rich legacy of empowering music celebrating the Creole culture at its highest level.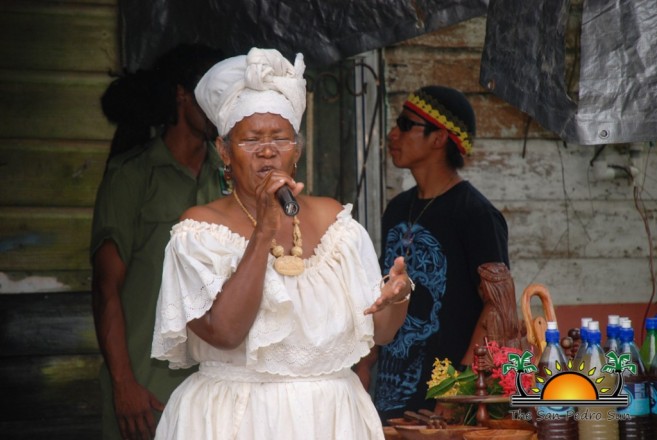 Vernon was a Punta Gorda-born singer who greatly impacted the Creole culture of Belize. She gained local and international recognition for her popular song, 'Ah Wah know who seh Kriol Nuh Gat no Culcha.' She was also the vice-president and founder of the National Kriol Council, and even translated the Belize National Anthem into creole. Her music became synonymous with the celebration of Belizean and Creole cultural identity.
In the days following her admission at the hospital, her family sought A-type blood for her. According to her sister Sandra Brown, she was beginning to come around. "She was doing well," said Brown. "Even in the morning before she died, she was doing well. We are so surprised to find out later on that she did not make it. We had reason to believe that she would make progress to get better." According to other family members, Vernon's signs of improvement were high as she was even singing to her doctors. The official cause of death was ruled as a sudden and fatal cardiac arrest.

Following the news of Vernon's death, the Government of Belize along with the National Institute of Culture and History issued a press release, acknowledging Vernon as a great promoter of the Kriol language, music and culture in Belize. They highlighted the recognitions the Queen of Brukdown received, including Brukdown Artist of the Year 2004 and the Woman of the Year in Culture Award in 2011.
The Governor General of Belize, Sir Colville Young also issued a statement on Monday, February 20th, expressing condolences on behalf of himself and his family. He shared how proud he was to have counted with Vernon as a personal friend and had mutual respect for their shared musical talent. "She was, and rightly so nicknamed the 'Queen of Brukdown.'… like the late, great Wilfred Peters, kept alive the Creole art of the brukdown."

The National Kriol Council has stated that in honour of Vernon, they will more aggressively pursue the cultural aspect of the Belizean Creole culture through education and music. They vow to prepare children so they can recognize their cultural identity and value. Vernon's family has expressed gratitude for the outpouring of condolences reaching the family, and asks that everyone join them as they plan to continue celebrating her life and the Creole culture.
May our Brukdown Queen, the great Leela Vernon, rest in peace.
Follow The San Pedro Sun News on Twitter, become a fan on Facebook. Stay updated via RSS