Local businessman under investigation
Thursday, October 21st, 2010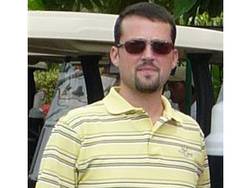 Online reports of the arrest of local businessman Ricardo Caveras spread wildly on Monday October 18th. The unconfirmed reports were that Mr. Caveras was arrested by the San Pedro Police Department, in conjunction with officers from the Lower South Hampton Pennsylvania police as a result of outstanding arrest warrants in the United States for parole violation, security fraud and other fraud related cases under the name of Richard D. Cover Jr.
Online searches have revealed countless articles that lead to the question of Mr. Cover's character. A telephone interview with ASP Arnold of the San Pedro Police Department revealed that the San Pedro Police Department did in fact detain Mr. Caveras as a result of information received from international sources. According to ASP Arnold, Mr. Caveras was transferred to Belize City, where he was being interview by Intelligence Officers. Among the investigations were questions of Mr. Caveras' nationality, as he claimed to be Belizean. ASP Arnold further informed that after Mr. Caveras' arrest, the department subsequently learnt that he might have been wanted in the United States.
While there are many allegations made against Mr. Caveras, aka "R.J. Erwin / Richard D. Cover Jr.", Belize's officials handling the case were reluctant to neither confirm nor deny any of them. A follow up with the United States Embassy proved to be a dead end, as officials from the agency are not at liberty to discuss any information regarding any US citizen without the written consent of said individual. The Embassy was reluctant to confirm whether Mr. Erwin is or isn't an American Citizen. To answer that question, The Sun was instructed by the Embassy to contact the investigating officer.
A telephone conversation with Sgt. Fitzroy Yearwood, Police Press Officer, confirmed that Mr. Erwin was indeed arrested and is being detained pending an ongoing investigation. He told The Sun that, "until a formal charge has been made against Mr. Erwin, the Police Press Office is not at liberty to discuss the details of the case."
Follow The San Pedro Sun News on Twitter, become a fan on Facebook. Stay updated via RSS