Wanted US national Khaffak Sahib Ansari detained in Belize
Friday, September 7th, 2012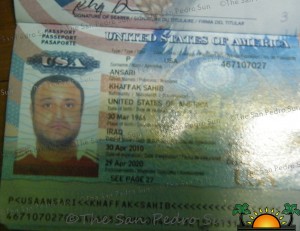 Wanted American national Khaffak Sahib Ansari was captured in San Pedro Ambergris Caye, Belize by San Pedro Police on Thursday September 6th. 46 year old Ansari, who was convicted in the U.S. for fraud in May of 2012, was detained by local authorities after a woman made a report against him at the local police station. He was detained shortly before 6PM and is expected to be extradited to the U.S. sometime over the weekend.
Ansari, said local police, was managing a local establishment on the island where a female had a misunderstanding with him and he had to be detained. According to police, after Ansari was detained, investigators decided to run a search of his name in their database and found that Ansari should have been serving a jail sentence in the USA for charges of fraud.
Earlier this year, a federal court in Minneapolis, Minnesota, USA convicted Ansari, owner of Stryker Avenue Market in the city of St. Paul of fraud after Ansari plead guilty of trafficking food stamps. United States District Court Judge Paul Magnuson sentenced Ansari, of Arden Hills, to 41 months in prison on one count of food stamp fraud. In addition, Ansari was ordered to pay $2.4 million in restitution. Ansari was indicted on May 17, 2011, and pleaded guilty on September 22, 2011.
Ansari came into Belize on August 18, 2012 and has been living alone on Ambergris Caye where he was in the process of buying a local business. The U.S. Embassy in Belize has been notified of Ansari's arrest and arrangements are being made to have him flown to the U.S. sometime over the weekend where he will be handed over to counterparts in Minnesota.
Follow The San Pedro Sun News on Twitter, become a fan on Facebook. Stay updated via RSS