EU gives Belize €13.5 Million for renewable energy
Saturday, October 10th, 2015
A €13.5 Million grant from the European Union is funding a project to map Belize's capacity to develop a renewable energy policy. The project is implemented by the European Union's Energy Initiative, The Partnership Dialogue Facility (EUEI PDF).
Belize's Ministry of Energy, Science, Technology and Public Utilities (MESTPU) launched the project at the conference room of the Ministry of Works in Belmopan on Tuesday, September 29. MESTPU engineer Ambrose Tillett explained that Belize would like to become more energy self-sufficient to the point where we export not only petroleum but also electricity to the regional grid.
To put this in context, Tillett presented statistics showing the country got almost a quarter of its energy needs from biomass – bagasse, and another quarter from diesel, with gasoline accounting for 19.15%, and hydroelectricity and wood fuels providing 7.11% each. Belize got another 6.47% of its energy from Mexico's Comision Federal de Electricidad (CFE) while 4.56% came from kerosene and 3.90% came from crude oil.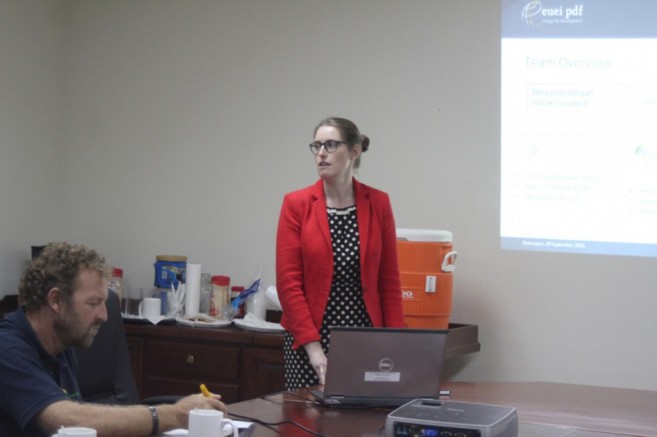 Some 40.46% of our electrical power came from hydro and another 36.82% from CFE, with Belize Cogeneration Energy Limited supplying another 17.86%. Only 2.4% comes from diesel nowadays and the 25Megawatt natural gas turbine at Mile 8 produced: 2,772 MWh or 0.44%. Belize got only 623 Mega-Watt hours or 0.10% of its electricity need from solar.
Tillett also explained the timetable for getting the funding which is part of a larger €27 Million grant from the EU, to be disbursed over the next five years. Part of the grant – €8.5 Million will go to strengthening Belize's hospital system, since the Karl Heusner Memorial Hospital would become vulnerable in the event of a natural disaster such as a hurricane, and the Western Regional hospital will be improved.
EUEI PDF Project manager Benjamin Attigah explained how the EUEI PDF was formed in 2004 as a flexible multi-donor facility, funding demand-driven projects, which had grown to working on 81 projects in 21 countries all over the world – Africa, Asia, South America, Indonesia and Europe. Consultant partners for the Belize project include the Meister Consultants Group of Germany, the Worldwatch Institute and Trama Tecno Ambiental of Barcelona, Spain. Initial recommendations are due in January 2016 and final recommendations in March 2016.
Meister Group's Mrs. Christina Becker-Birck explained the five project activities: 1: to establish an energy steering committee, the Terms of Reference (ToR) and an agenda; 2: assess and build capacity through training program, and a calendar for its implementation; 3: Map Belize's present and potential sources of renewable energy – hydro, bio-mass such as bagasse, solar, wind, etc; 4: Electrification of rural communities not yet connected to the national grid, through off-grid projects to help them improve their production and income generation; 5: Develop a roadmap for Belize's energy system for the year 2030.
The consultants continued their work at the ITVET compound in Belize City on Wednesday and Thursday, September 30 – October 1.
Follow The San Pedro Sun News on Twitter, become a fan on Facebook. Stay updated via RSS