Failure to declare funds leaves August Tabony detained in Honduras for six days
Thursday, January 14th, 2016
On Tuesday, January 5th, Honduran authorities apprehended Belizean businessman, August Tabony for failing to declare $16,490US upon entering the country. Six days later, on Monday, January 11th, Tabony was released and exonerated of all charges by Honduran authorities. Initially, Tabony had been arrested under suspicion of money laundering in connection to drug trafficking, but he managed to present his case before a Honduran court clearing his name. According to Tabony, the entire incident was just a misunderstanding, as he owns several businesses in Honduras.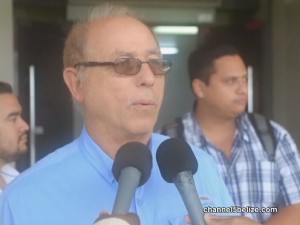 Tabony arrived at the Philip Goldson International Airport from Roatan, Honduras on Monday, January 11th shortly after 8:30PM. After disembarking from the aircraft, Tabony directed his attention to the media who were present where he addressed the incident. "The situation in Roatan was a disaster for me. I made a mistake. It could have been cleaned up in about 30 minutes, but the prosecutor tried to make a much bigger thing about it and under the laws that they charged me, I had to prove that my money was not from drug trafficking. Luckily we had no problem proving that information, but then it took six days to have the hearing and as soon as we had the hearing, the judge released us," explained Tabony. "I was charged with a ridiculous crime and anybody that knows me, knows that I've worked hard for 40 years building these businesses. We have had businesses in Roatan for the past 15 years. Yes I should have filed the paper, I do not deny that." Tabony was arrested at upon arriving at the Juan Manuel Galvez International Airport in Roatan on Tuesday, January 5th.
Tabony indicated that he owns several establishments in Honduras' tourism districts, including six gift shops and two restaurants. This ordeal has affected his businesses in Honduras to the point that Tabony is considering terminating business relations in the country. "I have a very negative feeling about Roatan now. I have a lot of investments there and I would really question going and putting any more. In fact, I would like to get it out, but I don't want to dislike the whole country just for the bad treatment I received by the prosecutor. I'm walking proud; I have nothing to be ashamed of, and anybody that knows me, knows that I'm not involved with illicit businesses nor do I associate with people that do illicit business," said Tabony. It is expected that two-thirds of Tabony's money will be returned to him within the next month. The Honduran Government will confiscate a third of the funds in fines for failing to declare the money upon entering the country.
Tabony is a well-known businessman across the country, with several successful establishments, including the Toucan chain of gift shops, in San Pedro Town and Caye Caulker Village.
Follow The San Pedro Sun News on Twitter, become a fan on Facebook. Stay updated via RSS