Massive protests in Mexico after increase in fuel prices
Wednesday, January 11th, 2017
Belizeans will feel the effects of the recent rise in fuel prices introduced by the Mexican government on Sunday, January 1st. Belizean bus companies who had been relying on the cheaper fuel prices across the border at the Mexican city of Chetumal, will no longer enjoy such commodity. Residents from the Belizean northern districts believe that prices in transportation and cost of basic goods might see an increase due to the Mexican fuel crisis.
The massive unrest on the Mexican side saw protesters blocking roads and looting several stores in various cities across that country. Mexican President Enrique Peña Nieto's government explained that the price deregulation had long been on the table, and it coincided with the rise in world oil prices. The 20% average increase in fuel caused a chaotic situation in Chetumal, the capital of the Mexican State of Quintana Roo, where popular establishments such as Walmart, Chedraui, Plaza de las Americas, and Aurora Bodega were looted.
However, the unrest had little effect on the thousands of Belizeans who visit the border city on a daily basis, as they continued crossing the border in search of the usual good deals. To many Belizeans the situation in Chetumal did not faze them. Residents of Chetumal however, are understandably upset.
"This is vandalism," said a resident. "This is not what we expected. It's no longer fighting the government."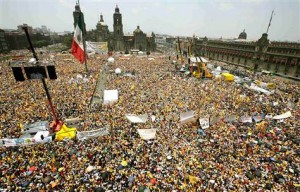 One of the many store owners went so far as to claim that the local media is sensationalizing the entire situation by making it look as if the situation is out of control. "Not all is true," the store owner said. "Most of what is on the news is pure lies."
It is not expected that the unrest will continue. Chetumal residents don't believe the riots will have lasting impact. "Some people are concerned about the cost of fuel, but here we have the best prices in products and services. The ones saying that there is violence, they are lying," said one business owner. "Tourism is protected. We give foreigners priority, like our friends from Belize who like to come to Chetumal. We invite them to continue coming to Chetumal."
During the chaotic days following the protests, at least six persons were killed, including a police officer who tried to stop a crowd from looting a gas station. Meanwhile, about 1,500 persons were arrested, and President Peña Nieto continued calling out for a cease in the acts of violence which overwhelmed the country.
Follow The San Pedro Sun News on Twitter, become a fan on Facebook. Stay updated via RSS