GOB: Update on COVID-19 Unemployment Relief Program
Thursday, April 16th, 2020
Belmopan. April 16, 2020. 1:30 p.m. – As of noon on Thursday, April 16th, a total of 65,762 applications have been submitted online since the COVID-19 Unemployment Relief Program was opened to accept applications on April 3, 2020.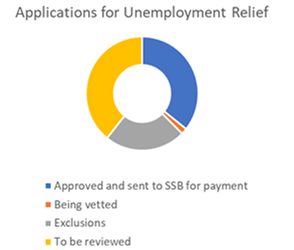 Of these applications, 23,264, have been approved and sent to Social Security Board (SSB) during the period of April 9th to 15th for payment into applicants' accounts. By the end of today, April 16th, all these approved payments will have been sent to the banks and credit unions for deposit.
While the majority of the payments are being credited correctly, there are, however, a notable number of them (about 15%) that have been returned from the banks because incorrect banking information was provided by the applicants. Efforts will be made to contact each of the applicants to obtain correct banking information.
Currently, 1,117 applications are in the process of being vetted for approval.
So far, 15,197 applications have been excluded because applicants are:
1. Below 18 years or older,
2.     2.  Not Belizean nationals (if applying for long term unemployment relief), or
3.     3. Already a beneficiary of a Government of Belize (GOB), SSB pension, or the BOOST program
Persons laid off in March 2020 by the Belize Tourism Board are also not eligible.
Further exclusions are being applied to persons who are:
4   4. Public Officers of the GOB, none of whom have been laid off due to COVID-19,
5.     5. Teachers employed in the public and private education system who also have not been laid off due to COVID-19,
6.     6. Employed, whether in the public or private sector.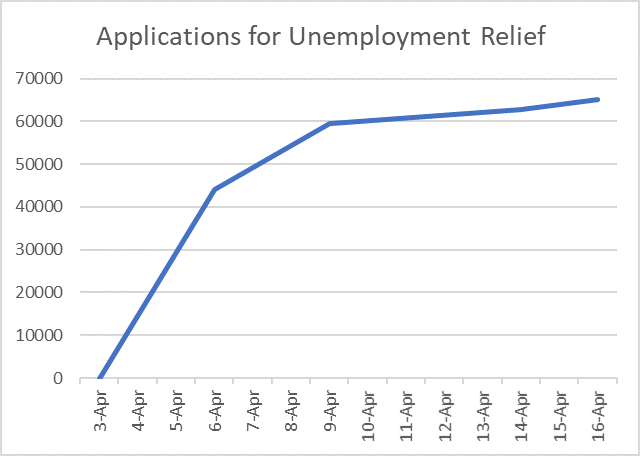 In order to ensure that payments to those in need were not delayed, in cases where it was not possible to confirm on a timely basis that persons should be excluded on the basis of numbers 4 to 6 above, applications may have been approved. All approvals will go through a second round of verification and where it is found that applicants who were approved should have been excluded from the program, the approval will be revoked, and any payments made will be subject to reimbursement.
The review process continues, and 26,184 applications remain to be reviewed. Applications that are NOT in any of the categories for exclusion are being reviewed for approval as quickly as possible.
Regarding applicants who requested payment by ATM top-up card, cards are currently being prepared for distribution and applicants will be notified when and where their cards will be ready for pick-up. Applicants will be required to activate a Personal Identification Number (PIN) so that they can withdraw their funds at the ATMs or use them for shopping at stores that accept debit cards.
As shown on the graph, the bulk of the applications for unemployment relief program were received in the first six-day period of April 3rd to 9th. Since then, applications have tapered off significantly.
Ends
Follow The San Pedro Sun News on Twitter, become a fan on Facebook. Stay updated via RSS