Oceana holds first ever Board of Directors International Meeting
Thursday, December 9th, 2010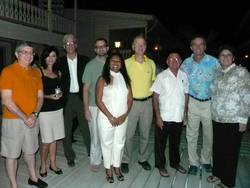 Oceana's Board of Directors held its first ever Board of Directors international meeting in Belize. The meeting took place from December 6th to December 9th 2010. Internationally acclaimed Actor, best known in Belize for his role in the sitcom Cheers and now HBO's Curb Your Enthusiasm, was among the over 15 board members who visited Belize for the first time.
The working session of the meeting was held in San Pedro, where the board approved its global strategy and budget for 2011 and learned more about pressing marine issues in Belize. While in San Pedro the Board met with members of the San Pedro Town Council and visited local tourist spots. As an attempt to show her support for Oceana and its policies, Mayor Elsa Paz, along with the Town Councilors, hosted the Board members at a cocktail party at the Holiday Hotel at which Minister of Tourism; Manuel Heredia Jr. was the guest of honor. As part of Ocean's Board members' visit to Belize a public forum was held at the Bliss Institute on December 8th, 2010 at 5 pm.
The meeting was opened to the public and saw the participation of many students from various universities in the country. The theme of the presentation was "Learning from the US Oil Disasters – Can this be us?" The key presenter was marine scientist Dr. Jeff Short, who has worked and researched the Exxon Valdez oil disaster in Alaska and the recent BP Deepwater Horizon disaster in the Gulf of Mexico. Another key presenter at the forum was Oceana's founding member and marine advocate Ted Danson. Danson has used his internationally recognized status as a famous actor to educate people around the world about marine issues affecting humanity globally.A key part of the Forum held at the Bliss Institute was the presentation of two awards of honor to two outstanding Belizeans for their work in marine advocacy.
The categories for the awards were: The Ocean Hero Award – to the most dedicated, long-standing educator and advocate on marine issues and sustainable development of our resources, which was awarded to Captain Carlton Young, Sr. in recognition of a dedicated lifetime service to Marine Education, Advocacy & Sustainable Use of Belize's Marine Resources. The second award was The Wave-maker Award – awarded to a person who has signed up to be an Oceana Wave-maker and has answered every call to action, worked to promote and share the work of Oceana and promoted the marine issues being worked on by Oceana. This award went to Mr. Victor Alamina, in recognition of his sterling commitment and activism in promoting the work of Oceana in Belize. These awards will be distributed annually by Oceana. Presenting the awards this year was Actor, Ted Danson. Of notable attendance at the forum were other board members; former President of Colombia and former Secretary General of the OAS (Organization of American States), César Gaviria and Oceana's chairperson, Kristian Parker from the Swiss-based OAK Foundation. Oceana's Board of Directors is comprised of leading authorities in their fields including Marine Biologists, Lawyers, environmentalists, and lecturers among other fields
Follow The San Pedro Sun News on Twitter, become a fan on Facebook. Stay updated via RSS