No foul play is suspected on the body of man found on a dock
Tuesday, June 5th, 2012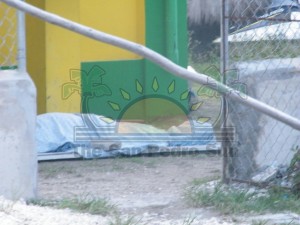 San Pedro Police do not suspect foul play in the death of a San Pedro resident. 41 year old Oscar Velasquez, of no fixed address, was discovered dead shortly before 6PM on Tuesday, June 5th on a dock situated along the lagoon side of San Pedro Town commonly referred to as El Embarcadero area.
According to San Pedro Police, they responded to a call and visited a dock situated on the San Pedro Lagoon off Nurse Shark Street. Upon arrival at about 5:35PM, they observed the motionless body of a Hispanic person, later identified as Velasquez, lying face up on a dock belonging to a local tour company.
Preliminary Police investigations reveal that sometime around 3PM, Velasquez was in the company of his "regular hang out friends," when he began complaining of severe abdominal pain. Rudolph Neal, one of his friends told police, that after Velasquez's pain continued, he took him out of the sun and placed him under the shade on the dock. After checking on him at about 5:30PM, he realized that Velasquez was motionless.
Velazquez's friends told The San Pedro Sun, that he appeared to not be feeling well since 7AM. It appears that he started vomiting blood and was given water, ginger ale and Pedialyte throughout the course of the day.
Dr. Noeli Nicholson of the Dr. Otto Rodriguez San Pedro Poly Clinic II certified Velasquez dead and did not observe any signs of violence. Because Velasquez has a medical history, Dr. Nicholoson believes he may have died from an old medical condition. Velasquez's body was transported to the Belize City morgue for a postmortem examination which will officially determine his cause of death.
As no visible signs of violence were observed on Oscar Velasquez, police do not suspect foul play.
Follow The San Pedro Sun News on Twitter, become a fan on Facebook. Stay updated via RSS