Follow your Dreams and Anything is Possible – Ronise Rosel Caliz – Belize's second Female Pilot
Friday, October 12th, 2012
What will I be when I grow up? This is a question that as children, many of us spend countless hours pondering. Our role models are often fire fighters, police officers, soldiers, doctors, lawyers and pilots, to name a few. In many cases, we find that children's gender can influence their career aspirations. More often than not, you would find that a little girl would aspire to become a nurse while boys would aspire to become doctors, and so forth.
Many career barriers have been crossed in the country of Belize, and while the world over, the 'glass ceiling' has been smashed in this particular field, Belize seems to have just started chipping away. We speak of course, about the flight industry. For years, all of the pilots in our country were men, but then in 1998, 19-year-old Florita Ancona became the first female licensed pilot to hit the Belizean skies. Fourteen years later, we take much pleasure in presenting a bright, dedicated, and motivated young lady who has joined her in a field where only men dared to venture in the past.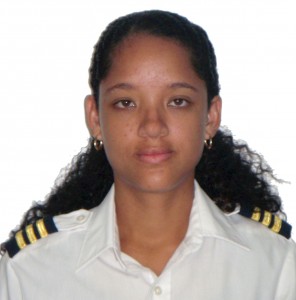 27 year old Ronise Rosel Caliz of Punta Gorda Town in the Toledo District is presently the only female pilot in the country and she is employed by Tropic Air. Her love of airplanes drove her to the career of her dreams. She spoke to The San Pedro Sun of her challenging journey to achieve one of her life's goals.
Her love of aircrafts was nurtured by a pilot uncle who flew for the Belize Defense Force. She recollects fondly, her childhood experience watching her uncle fly. "My uncle was a pilot flying for the BDF. And when we were little, he always used to have sort of air shows for us with the aerobatic airplanes that the BDF has over Ladyville. They would always come out and do shows. I knew then that that was what I wanted to do. In high school, I was faced with making a decision of a career choice and that was my choice, – but I didn't think it was possible because I didn't know anyone that was female that was flying."
Notwithstanding that fear, Ronise still pushed towards employment that would place her in the midst of the thing she loved most; airplanes. She acquired employment at the Phillip Goldson International Airport as a Customer Service Representative for Delta Airlines, then later with Maya Island Air.
At Maya, she was soon promoted to Gate Supervisor. This is where her interest in pursuing her long time dream was re-sparked. "That's where I met local pilots and was encouraged by them to follow my dreams and just go for the career. In the meantime while I was putting things together to go, they used to show me little things here and there and explained certain things. That's where I got the motivation to pick up and just go and get my license."
After eight months abroad, in Daytona Beach, Florida, USA, Ronise came back to Belize and started building her turbine hours with Tropic Air in July of 2011. She started training with Tropic in August of this year and was offered employment on September 3rd. While Ronise is presently captain of a 172-Cessna, the smallest aircraft of the company's fleet, she aspires higher. "My aim is to get to fly the Caravan – being that that is the biggest airplane they have here to fly at any of the commercial airlines in Belize. One of my dreams is to be captain in one of those caravans. And then after that I want to build some more experience to where if for whatever reason they would decide to get a bigger airplane, I would feel confident enough to venture to that part."
While Ronise would welcome the opportunity to fly internationally, she stressed no immediate desire to do so. She is home and home is where she wants to stay. So, what advice does she give to young girls or boys who might fear pushing forth for their dreams? "If it's something you love, go for it because if you love something you're gonna do your best in it. And it will be easier to achieve because it is something you really want. So, don't take long like I did because I was doubting myself. If it's something you love – you don't have to compare yourself to anybody else – you don't have to watch and see if anyone else has done it – you can make a difference starting with yourself."
Well said. The San Pedro Sun extends a warm congratulation to Ronise, a young Belizean who had a dream and went after it, successfully. Ronise has proved that nothing is beyond our reach if we are determined and dedicated. We wish her all the best, and safe flights Ronise!
Follow The San Pedro Sun News on Twitter, become a fan on Facebook. Stay updated via RSS