San Pedro Lions Club receives check donation from Coon Valley Lions Club
Monday, January 21st, 2013
Visually impaired kids on the island to benefit from donation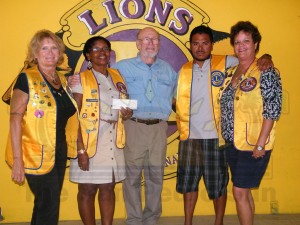 The San Pedro Lions Club on Ambergris Caye, Belize received a donation from the Coon Valley Lions Club from Wisconsin, USA on Friday January 18th. The donation was made on behalf of the club by Loran Nordgren of Westby, Wisconsin and is a result of a donation with the understanding that half the money raised in a raffle was for the Coon Valley Lions Club and the other half for the San Pedro Lions Club.
According to Nordgren, the club in the US raffled a trip for four people to Belize, with accommodation for a week at his Ambergris Caye home. "We raised over $12,000 US and after expenses it came to a little over $7000 US profit half of which came to San Pedro Lion Club," said Nordgren who elaborated that the reason he chose to offer his home for a week in the raffle with the condition to help the island's club is because he fell in love with the island.
Receiving the donation of $3541USD was the President of the San Pedro Lions Club Mel Spain, who was accompanied by some of her hard working board members. "I want to say thanks to the Coon Valley Lions Club for giving us this donation. We are going to use this money for a special sight program for our young kids. As you know vision is one of our main priorities and we have seen people here on the island that cannot even afford to get their eyes tested. We will be bringing out the specialists that usually come to perform eye tests at regular clinics but we will be having a special clinic for the younger children. The money will be used to pay for those expenses and we will provide this free, from treatment to eyeglasses for the children," said President Spain.
"I feel so much joy to be the representative for my ability to be representative of the Lions Club in Coon Valley in Wisconsin to contribute this money in the hope that this will help people see especially the young children of San Pedro," said the Wisconsin resident. Nordgren, who is a Lions Club Member in his hometown, has been coming to Belize for over 25 years but has been living part-time for over 10 years on the island.
Follow The San Pedro Sun News on Twitter, become a fan on Facebook. Stay updated via RSS