Doctor Javier Zuniga graduates with a Master Degree in International Public Health
Monday, December 9th, 2013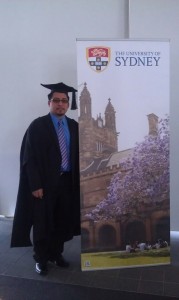 Doctor Javier Zuniga is back in the country after a year abroad furthering his medical career. Dr. Zuniga has earned a Master's Degree in International Public Health from the University of Sydney School Of Public Health. While his departure from San Pedro Town as Medical Coordinator and Director of the Dr. Otto Rodriguez San Pedro PolyClinic II was temporarily to further his profession, it is highly possible that Dr. Zuniga may not be returning to the island to work.
Dr. Zuniga explained that he is happy to be back home in Belize but may be assigned a different responsibility. "I still remain employed by the Government of Belize and will continue to serve the people and my country. It is uncertain if I will be returning to the San Pedro PolyClinic," explained Zuniga. Because of the new knowledge he has gained in the specialty of International Public Health, there is a great possibility that Dr. Zuniga will be utilized elsewhere in the Ministry of Health.
In 2012, Zuniga was offered the Australian Development Award, which earned him a scholarship to pursue a Masters Degree in the area of International Public Health, an area that is a priority for the Ministry of Health in Belize. "It was a wonderful experience having met people from various parts of the world who work in the same area that I do. These people come from countries that are facing similar public health problems like us in Belize, and so it was an opportunity to exchange experiences and different ideas. For example, maternal and child mortality rate, high HIV/AIDS prevalence, poverty that leads to high teenage pregnancy and malnutrition are problems affecting us in Belize and similarly in places like Africa and other middle and low income countries."
His Master Degree in International Public Health will help in finding ways to address public health issues that are caused by social problems. "In the case of Belize, we need to incorporate people into existing programs that will help address public health concerns. However, for us to access help for these people, doctors have to be trained to understand how people live and think, in order for us to help them. Then we need to tell these people that they need to be a part of the solution by being a committed partner in these existing social programs."
In 2003, Dr Zuniga graduated from El Instituto Superior de Ciencias Médicas de Villa Clara "Dr. Serafín Ruiz de Zárate Ruiz", located in the city of Santa Clara in Cuba and because of all his accomplishments he received El Diploma de Oro (The Golden Diploma), one of the highest recognitions offered by the medical institution. Since August of 2006, Dr Zuniga has served the community of San Pedro, eventually becoming the Medical Coordinator and Director of the only public health facility on the island.
The San Pedro Sun joins the community in congratulating Dr Zuniga on his recent achievement and welcomes him back home. We wish him all the best in his future endeavors.
Follow The San Pedro Sun News on Twitter, become a fan on Facebook. Stay updated via RSS