Learn traditional massage techniques with Master Lee
Saturday, December 28th, 2013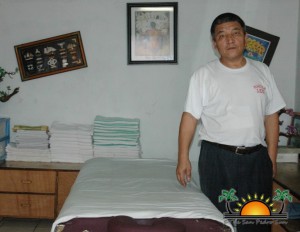 Have you always wanted to work using your hands to help heal and bring relief to those in pain? If you have ever been interested in traditional medicine that applies the intricate knowledge of the body, using said knowledge to heal, then perhaps you should take up the offer by generous island healer Master Lee. He is offering a free – yes, FREE – course in traditional massage techniques. Lee stated that he wants to pass down his knowledge to others who can in turn use the lessons as an opportunity to work and make a living. It's certainly a generous offer, and one that should not be taken lightly.
But what exactly is Master Lee's technique, and how did he come about with such knowledge? For reference, we reprint an excerpt from Our Belize Community in The San Pedro Sun, Volume 17 Issue #45.
"Traditional Chinese Medicine (TCM) practices include theories, diagnosis and treatments such as herbal medicine, acupuncture and massage. TCM theory asserts that processes of the human body are interrelated and in constant interaction with the environment. It is a tradition passed down from generations, kept alive, and was brought down to Belize at a time when people were unaware of its curative powers. One such person who keeps the tradition going is island resident Master Lee.
Master Lee grew up with his Buddhist uncle who practiced herbal medicine and massage. Lee's uncle began to teach him these techniques from the moment he arrived at his house. Master Lee would attend school and in the afternoons would be mentored by his uncle.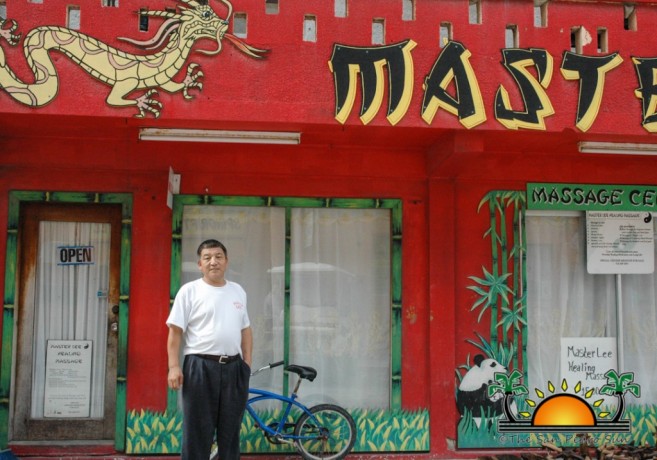 At the age of 14, Lee began his military training at the China Army, where he also got the opportunity to attend school and he decided to continue learning as much as he could about herbal medicine and massage. He pursued this career as far as it took him and, while still at the army, he received his medicinal and surgical degree. This was no easy feat and he spent 18 years in schooling, the first eight at a school in China while the last 10 were passed at a school in Hong Kong. Lee explains, "In China, they teach you everything. You have to learn all the body parts and how to fix everything. You become a general practitioner but are also branched out in different areas."
Master Lee continues to offer his treatments which include massages to cure historical pain, arthritis, sprains, broken bones, sleepless nights and memory loss. His great work supersedes him and he is well known for specializing in foot massages for, pregnant women, weight loss, lowering blood pressure, headaches and back pain. His shop is currently located on the corner of Barrier Reef Drive and Buccaneer Street."
Those interested in learning and taking his offer of free courses can stop by his shop and get further details.
Follow The San Pedro Sun News on Twitter, become a fan on Facebook. Stay updated via RSS