Jhoan Hernandez is the first Belizean to win the CA Junior Angler of the Year Award
Monday, January 13th, 2014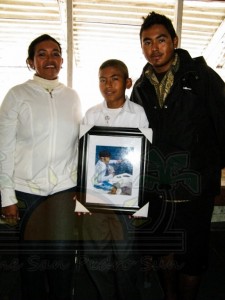 An 11 year old student of Holy Cross Anglican School captured a regional award for his dedication in fishing. Jhoan Hernandez, a resident of San Mateo Area on Ambergris Caye was awarded the Central American Junior Angler 2013 Award by Accurate Reel, located in Costa Mesa, California. It is the first time that a Belizean was nominated and has won such an award, which seeks to recognize junior anglers in the Central American region.
An emotional Hernandez received the surprising news on Thursday January 9th when he was visited at school during a small assembly. Presenting a picture plaque with the signatures of the board members of Accurate Reel was Rudy Lewis of Strike Force Belize and Roberto "Robbie" Guerrero, President of the San Pedro Game Fishing Association. In presenting the award, Lewis said that the recognition acknowledges the dedication of the person and encourages him to pursue his dreams. "Some of the people that fished with us at Strike Force Belize and use Accurate Reel products made the nomination and he was selected from among other nominees from Central America. This is the first time a Belizean has received such award and it is an honor to be presenting him with this distinction."
Hernandez lives in community facing many challenges and is from a single mother's home and as such is a wonderful example of accomplishment. The student explained that he was unaware of the nomination and the award comes unexpectedly. "I love fishing and I would go with anyone who would drag me along with them. I have been fishing since I was four years old. Fishing is my best sport. I am happy and excited for the award," said Hernandez.
Meanwhile Grace Williams, School Principal of Holy Cross Anglican School said that she is happy for Hernandez and said that it demonstrate that the school is helping students reach their dreams in all aspects. "To the school, the award given to him (Hernandez) is big. This is a perfect example that not only are we improving and excelling academically, but our students are excelling in other areas, such as is the case with Hernandez. It goes a long way to prove that here at Holy Cross, we help our children be somebody in life. We are happy that one of our own students was awarded and we salute him," said Williams.
"The creed of the award is 'dedication and willingness to learn.' It is an award that fosters everyone's goal to strive in what they want to pursue," outlined Lewis.
Hernandez, a Standard V student is also well above average academically, as he came in fourth in his class of 23 students. The San Pedro Sun congratulates Hernandez and encourages him to keep reaching for his dreams.
Follow The San Pedro Sun News on Twitter, become a fan on Facebook. Stay updated via RSS