Ground Breaking for Infrastructure Improvements at Archaeological Sites
Saturday, February 22nd, 2014
Tourists and local visitors to archaeological sites in Belize will soon benefit from infrastructure improvements at the sites under the Making Tourism Benefit Communities Adjacent to Archaeological Sites (MTBCAAS) project. The infrastructure works will commence at Altun Ha, Belize District and a ground breaking ceremony was today (Wednesday, February 12), to mark the occasion. The project is funded by the European Union and the Government of Belize.
European Union (EU) Ambassador Paola Amadei who addressed the ceremony remarked "It is a symbolic event as this EU funded project aims on one side to improve the experience of tourists visiting the archaeological sites AND as well promotes employment and better opportunities in the communities in the proximity of the archaeological site. This project has the component of promoting community development."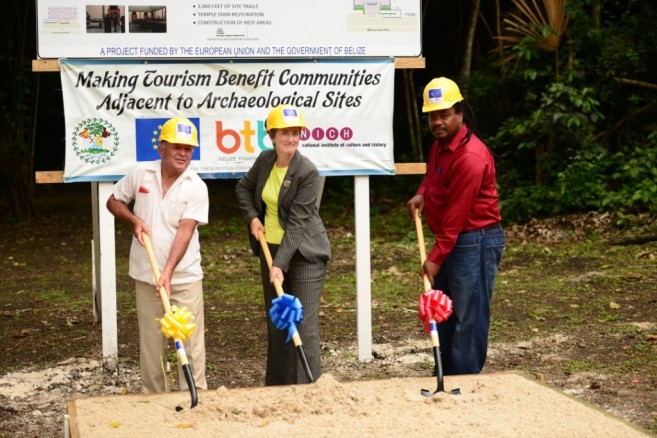 Visitors to Altun Ha will experience the upgraded Visitor's Centre which will be outfitted with audio-visual equipment, enhancing the tourist experience. Additionally, a new male bathroom facility, walking trails and seating areas will be constructed. These improvements will cater to people with diverse abilities and increase health and safety at the site. A contract was signed with KIKOS Engineering Services for $255,583.41 to carry out the construction works at Altun Ha. Construction is expected to last for 4 months, ending in June 2014.

The Making Tourism Benefit Communities Adjacent to Archaeological Sites (MTBCAAS) project is being implemented by the Belize Tourism Board and the National Institute of Culture and History. The objectives of the project are:
• To improve economic opportunities in rural communities and contribute to the reduction of poverty;
• To enhance the tourism experience through improvements in tourism infrastructure and services at selected sites.
The project intends to achieve three main sets of results:
 Results One: Improve the monitoring systems at archaeological sites;
 Results Two: Improve health and safety provisions and infrastructure at archaeological sites;
 Results Three: Enhance the diversification of community based tourism products and services
offered at archaeological sites in Belize.
The MTBCAAS Project targets communities adjacent to the following nine archaeological sites:
Xunantunich
Nohoch Che'en (Caves' Branch)
Nim Li Punit
Barton Creek
Altun Ha
Lubaantun
Actun Tunichil Muknal
Lamanai
Blue Creek
The MTBCAAS Project was launched in March 2013 and is made possible with grant funding of BZ$2.75m from the European Union and BZ$1.25 contribution from the Belize Tourism Board and the National Institute of Culture and History for a total estimated cost of BZ$4 million. It is being implemented over 24 month period and scheduled to be completed in November 2014.
Follow The San Pedro Sun News on Twitter, become a fan on Facebook. Stay updated via RSS